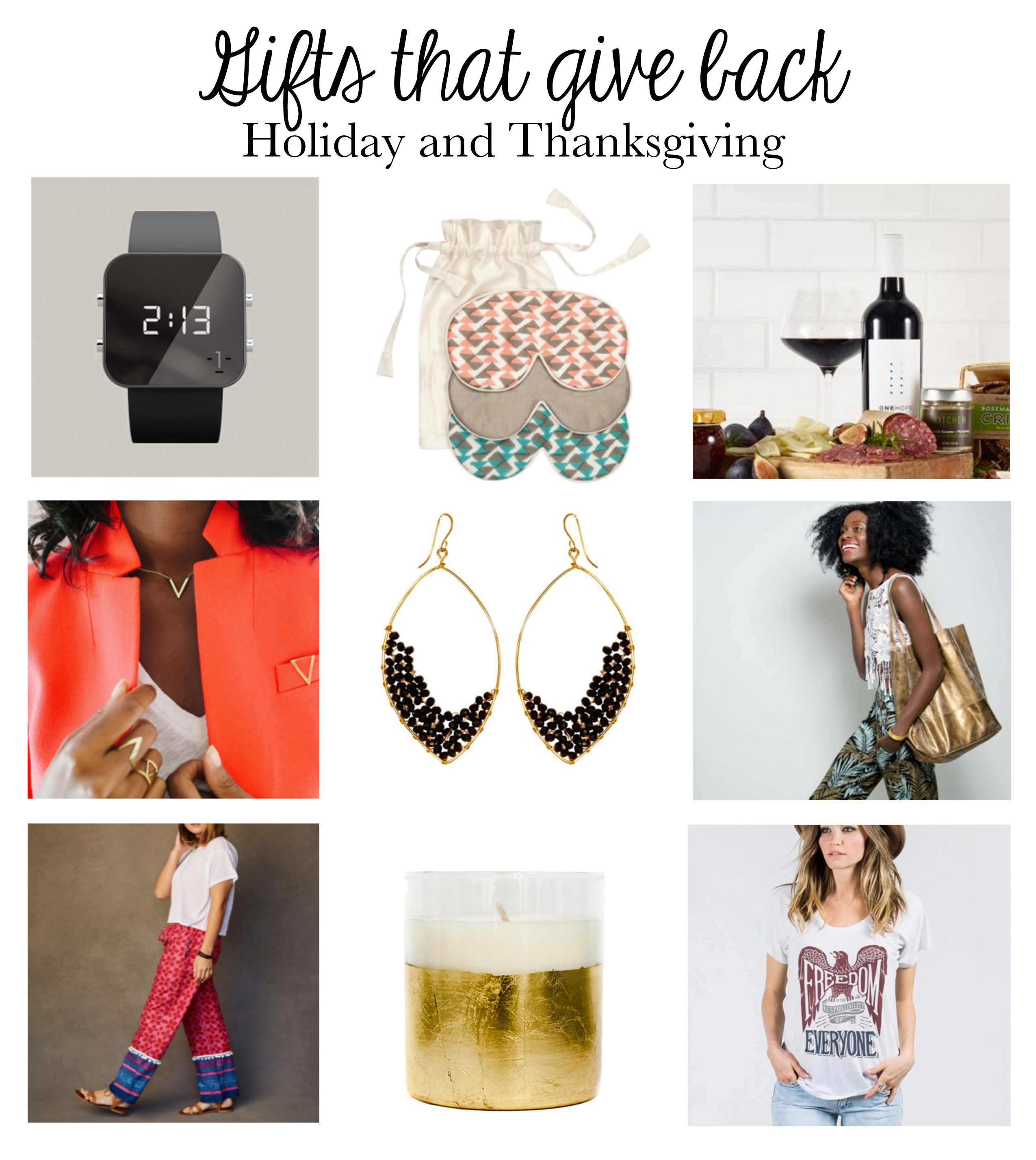 The holiday season is a great way to give back to others and make your loved ones feel appreciated.  Sure, Christmas is around the corner and department stores already look like a green and red explosion, and I even heard "Jingle Bell Rock" picking up a tank top – oh, the irony.  But, picking out the perfect Thanksgiving gift for your dinner host is one of the most enjoyable things for me during the holidays.  This spending and spending on presents always seems to leave me feeling a little guilty during a season that is fundamentally about praising a selfless and humble man. How do you spoil your friends that mean so much to you while also doing something great for humanity?  Believe it or not, there are so many good family gifts, or presents for your best friend that donate money upon purchase to charity!  I've put together a list of my favorite items that either employ people in need for production or donate proceeds to specific charities.  Take a look at some of these ah-maz-ing gifts that give back and Thanksgiving gift ideas that totally blew me away!
1 Face Watches  are the perfect gift for any man or tech lover on your list.  Y'all, can we talk about how hard men are to shop for? I have a feeling this will be your go to gift for them with its affordable price tag and amazing business plan.  Every color watch corresponds to a charity, so you can cater each gift specifically to a cause that your loved ones are passionate about!
The Ethical Silk Company  has some adorable products that are great for housewarming gifts or stocking stuffers.  I especially love these silk eye masks that are wonderful for all of those traveling buddies you've got.  A feminine pattern and luxurious fabric make this a truly feel good gift!
Now this is going to be a habit for me.  This OneHope Red Wine Gift Box is so lovely and perfect for the season!  The wine gift set is great, but I dare you to explore all of the packages they offer, because there are some perfect for any occasion!  Talk about an awesome Thanksgiving basket!  This one is awesome for those loved ones who live across the nation…and who doesn't love getting something pretty in the mail!  OneHope funds go towards providing therapy to children with autism.  I'm sold.
This piece is a fashionista with a social conscience's dream come true.  All proceeds of this handcrafted necklace go towards Pencils of Promise which help educate women in Ghana.  There is no doubt this gift under the tree is sure to please and give a feel good vibe every time it is worn!
These upscale earrings are a statement piece that has a really great cause behind them!  The online shop places women in craftsman positions and allows them to work safely and provide for their families.  I'll take the entire store, please!
If you have a moment take a trip to Ssesko's website and see some of the women that you can help educate with each purchase.  This feminine and practical online boutique offers a wide selection of leather goods, accessories, and gifts that give back.  There is no doubt that these handmade, durable pieces will be a SHOWSTOPPER to anyone who receives them.
I love giving..and getting (hint hint)…adorable pajama's for Christmas.  These Sudara PJ's have the most lovely print and are handmade by amazing craftsmen; aka women who have escaped the sex trade in India.  The company is working to provide safe and sustainable work environments for women to keep them in good hands.  Now that is a cause I can support!
While browsing  This website, you will have the feeling that you are shopping a top NYC boutique or chic little downtown store.  The bonus behind any purchase on Raven and Lily is that all goods are handmade by female craftsman who the company provides with safe jobs!  Once again, a purchase here empowers women across the globe, and will make your loved ones feel extra special!  Take a look and grab some of their adorable pieces.  This candle is the perfect housewarming, Thanksgiving gift!
**WHITNEY's CHOICE: This graphic tee is so trendy, you'll be surprised to find out it actually supports a cause of your choice!  7% of every purchase goes toward a cause of your choice.  The tshirt above supports Hope for Warriors project…I'll take one for myself please!  Plus, now has never been the best time to LIVE OUT LOUD this tee's message: FREEDOM IS THE RESPONSIBILITY OF EVERYONE.  Did you remember today was Veteran's Day?  Click, buy, and wear it proudly – it's our duty!
It is clear that these are gifts that give back and support causes bigger than themselves.  This holiday season I challenge you to find some things that give back to the world, because it will make that present so much more meaningful to you and your friends.  I hope this gift guide was a good start to your holiday season, and if you find yourself clicking purchase on any of these gifts that give back to charity, shoot us a comment below! I hope you enjoyed these good cause gifts!
Become my friend on this wild journey and follow @HelloWhitneyxo on Instagram and Hashtag #HelloWhitneyHoliday.  I can not wait to see what you all are up to!