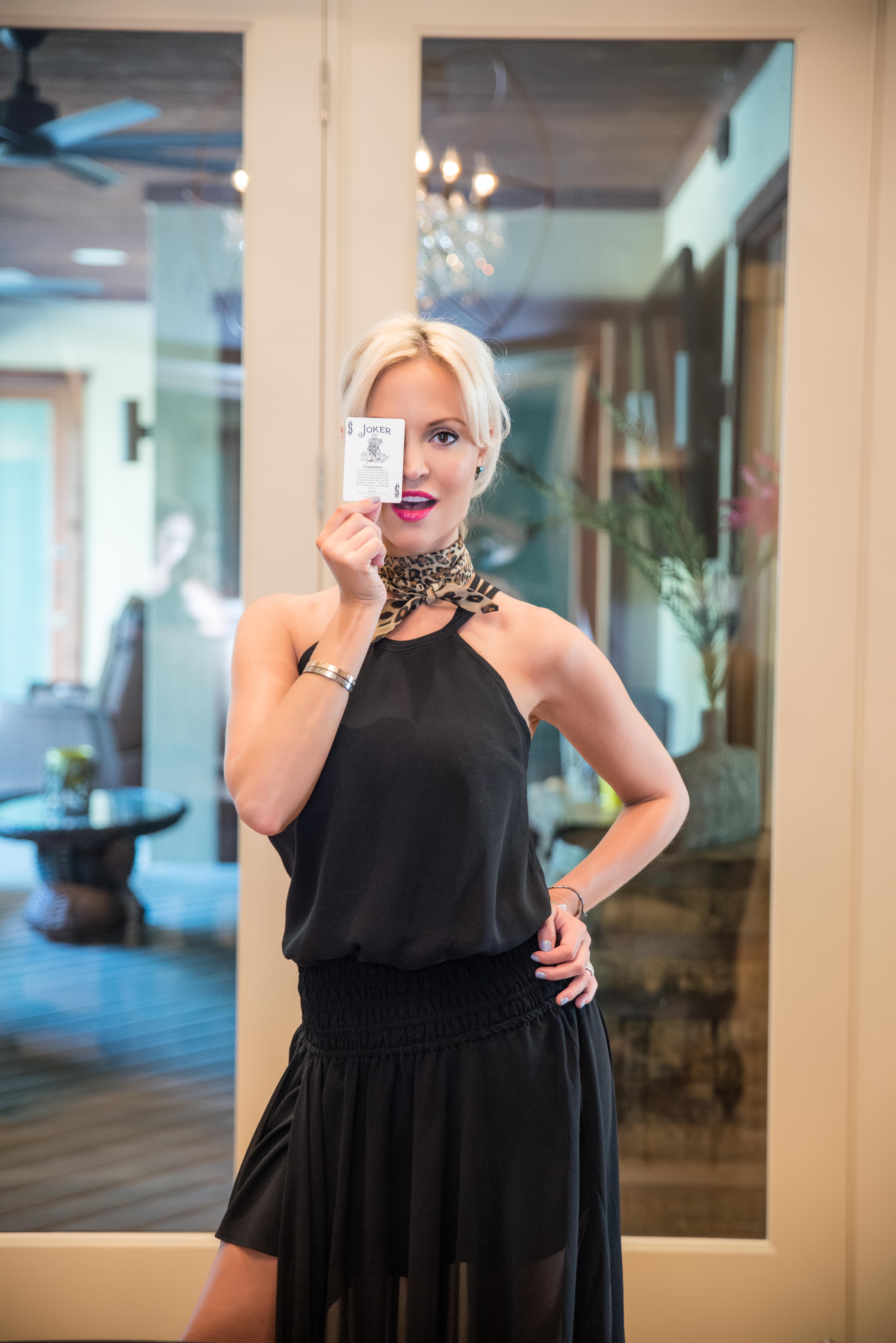 Ready for a fun night filled with fashion show games? Tonight is 'poker fashion' night. Did ya even know there was such a category? (No, b/c I just made it up.). Here I show my competitive poker faces, and a couple of tricks up my sleeve. And back. There's  2 sides of me when playing games: fun and serious.  (And ALWAYS competitive.)  I've always dreamed of going to the Monte Carlo Casino in Monaco and sitting at the poker table in a James Bond movie.
*Trivia: did you know there were three 007 movies shot at that location? Casino Royale, Golden Eye, and Never Say Never Again.  You listening, Jeopardy contestants?  Somehow, I don't think you're my target audience, but it may come in handy during anyone's next Trivial Pursuit game. (Ode to my intellectual readers.) I'll take Jenny over Daniel, Pierce, or Sean Connery any day!
Jenny Anchondo was a sport to have some dress designer game days with me this past week. You saw in my previous post our relaxed, fun shuffleboard game sporting our  white after labor day.
Wearing Abi Ferrin, a local Dallas designer, she has a talent for trendy looks and making dressing up effortless and easy-breezy. She also knows how to put together an outfit that makes a stunning impression. Literally:  look how this black dress flows with the amazing silk fabric.  This takes "LBD" the next level.  The slit, the movement, and the lightweight fabric can be dressed down with sandals, or elevated with a fantastic pair of heels for the perfect going out outfit.  (the leopard ones I'm wearing are vintage Prada.  I literally have had them in my closet for 12 years.)  And, NO – I had no idea where we would shoot this scene, so matching the leopard chairs was completely coincidental.  And, notice my necktie:  Leopard is a neutral, ya know.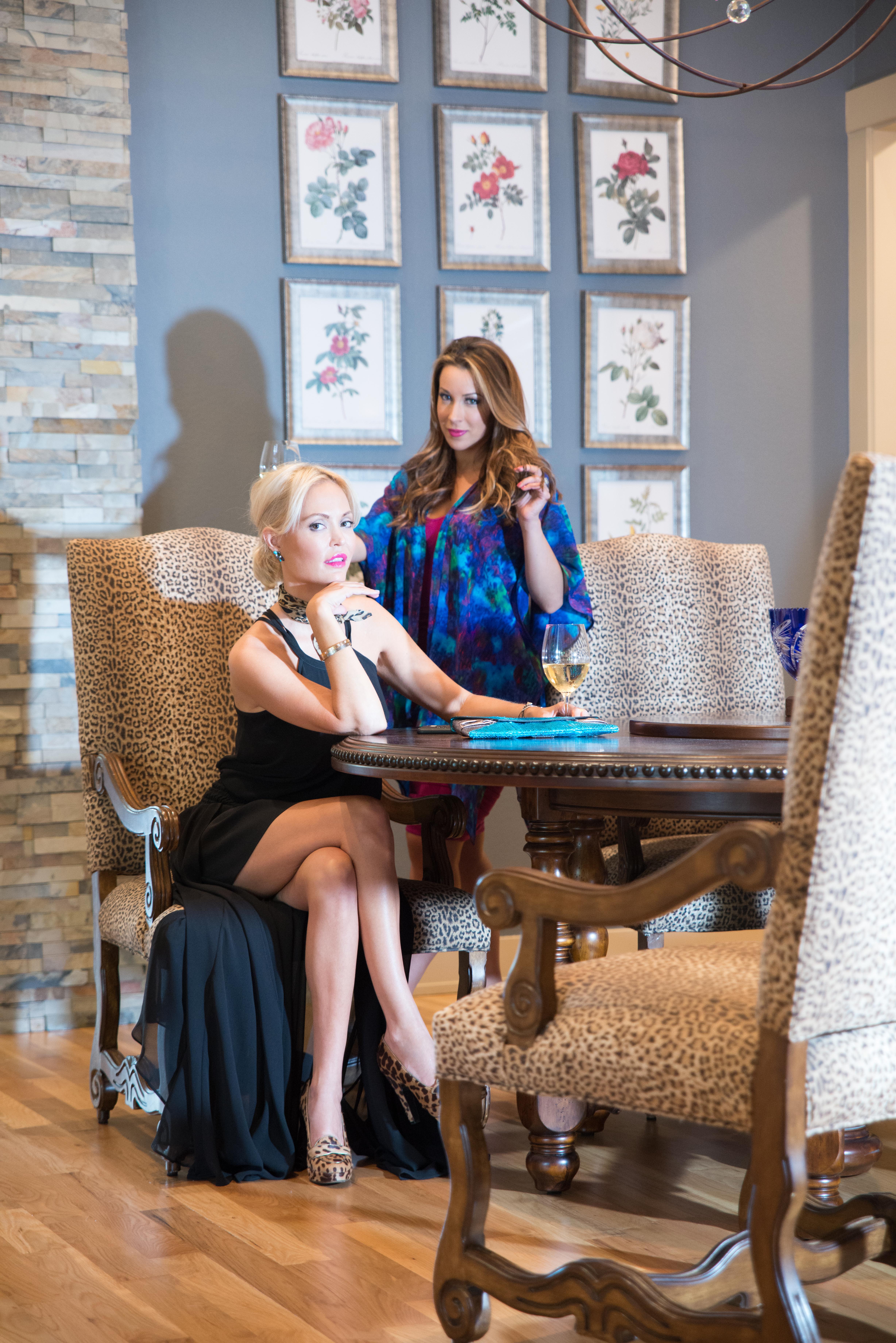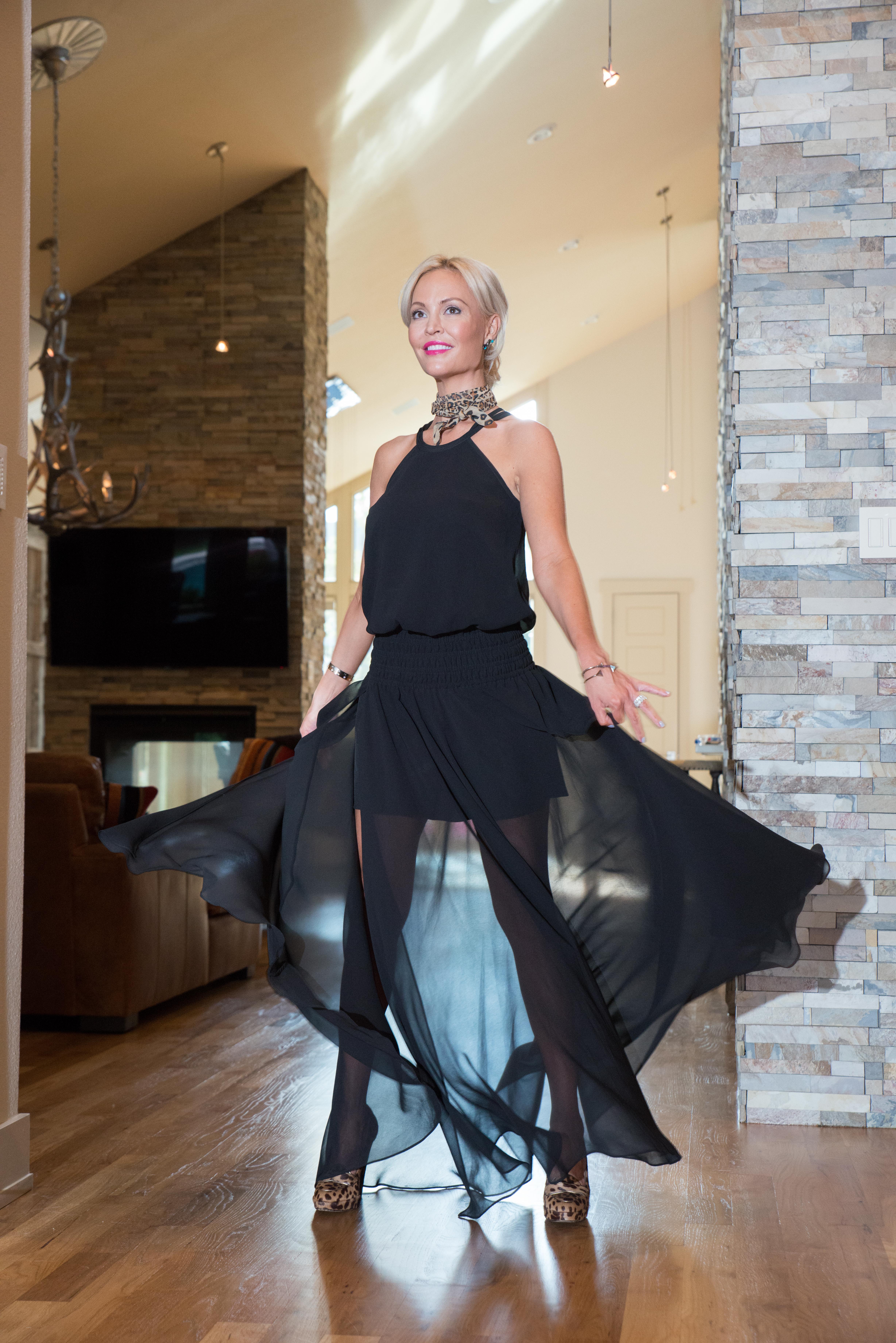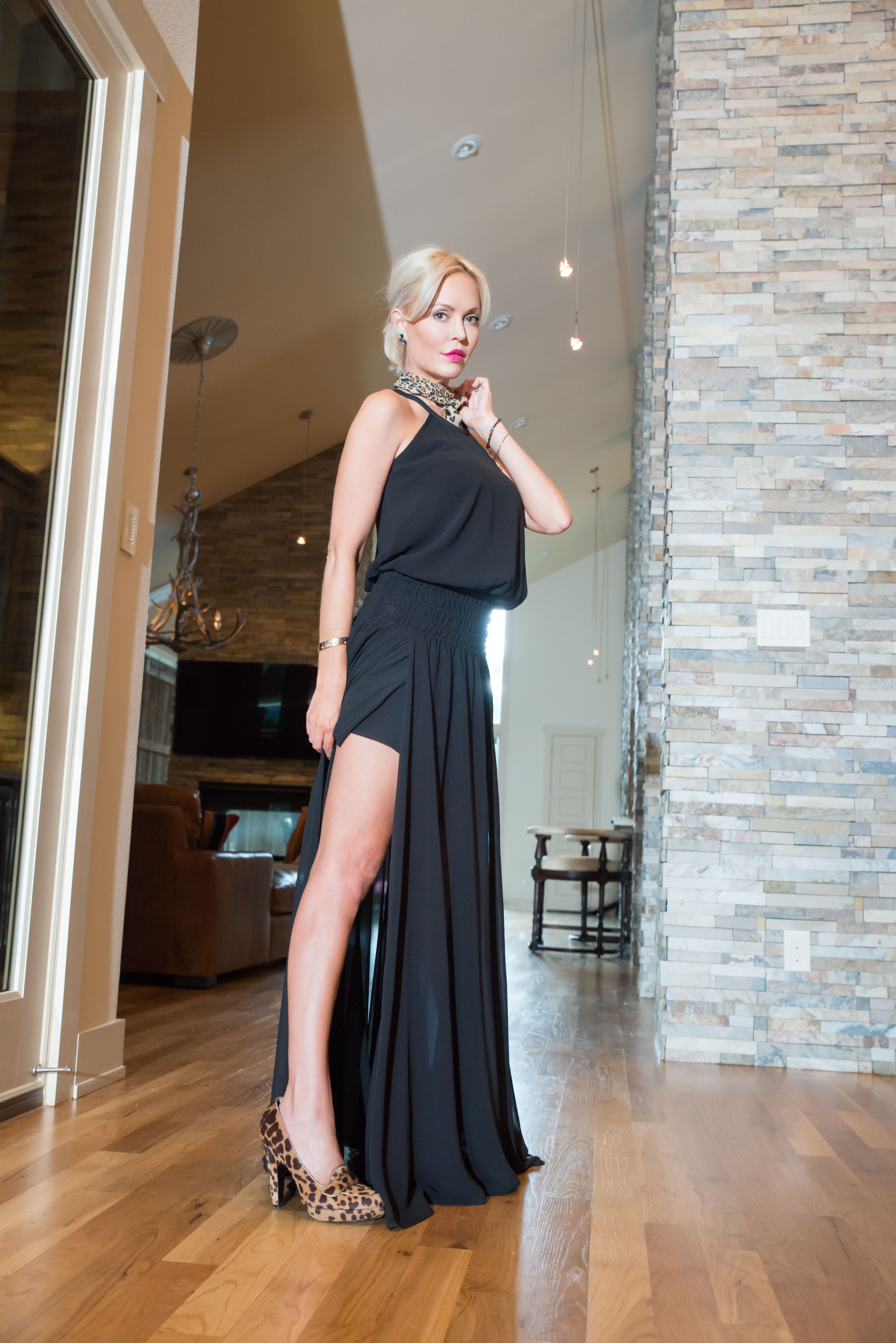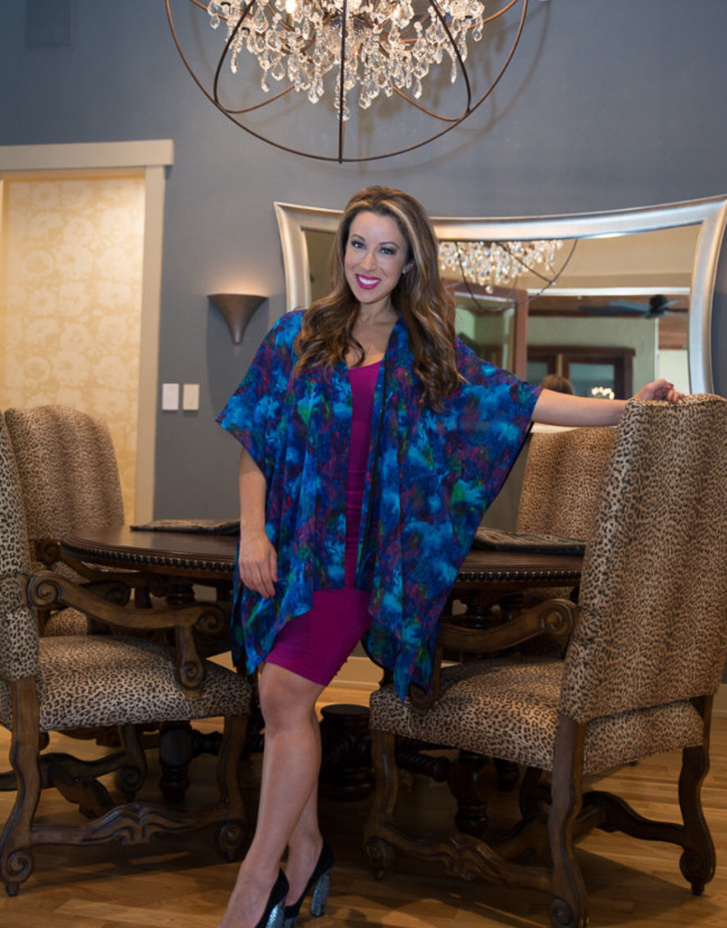 Whitney's outfit:
Abi says: "The Ricki dress is figure flattering and is perfect for a walk on the beach. The cinched waist will accentuate any body shape, increasing comfort and confidence. The criss-cross detailing in the back makes this piece fun and flirty, and the long flowing skirt has a surprise slit on the front right side to keep the look fresh and light.  Be sure and check out the different colored pattern options!"
Jenny's outfit:
Abi says: "While body conscious, this flattering dress knows how to accentuate the positive and make the rest disappear.  The double ruching on both sides flatters trouble spots and allows you to adjust the length from a carefree mini to below the knees.  The unique reverse racer back captivates attention and flatters from all angles as you leave the room."
Abi says: "This chiffon cover is the perfect addition to your short set or beach outfit. Versatile coverup that you can wrap around to belt or leave flowy for a dramatic entrance. This staple will move you from spring to summer!"
I hope you enjoyed the post on my favorite adult dress up fashion show game 'poker', it's one of the best fashion show games that I could think of to enjoy the wonderful world of art and expression. Be sure to follow my Instagram @hellowhitneyxo and twitter @hellowhitneyk for more content, fashion and lifestyle updates!

*If you enjoy reading my blog, would love for you to "subscribe" with your email in top left corner of home page. I want to bring joy to your inbox!