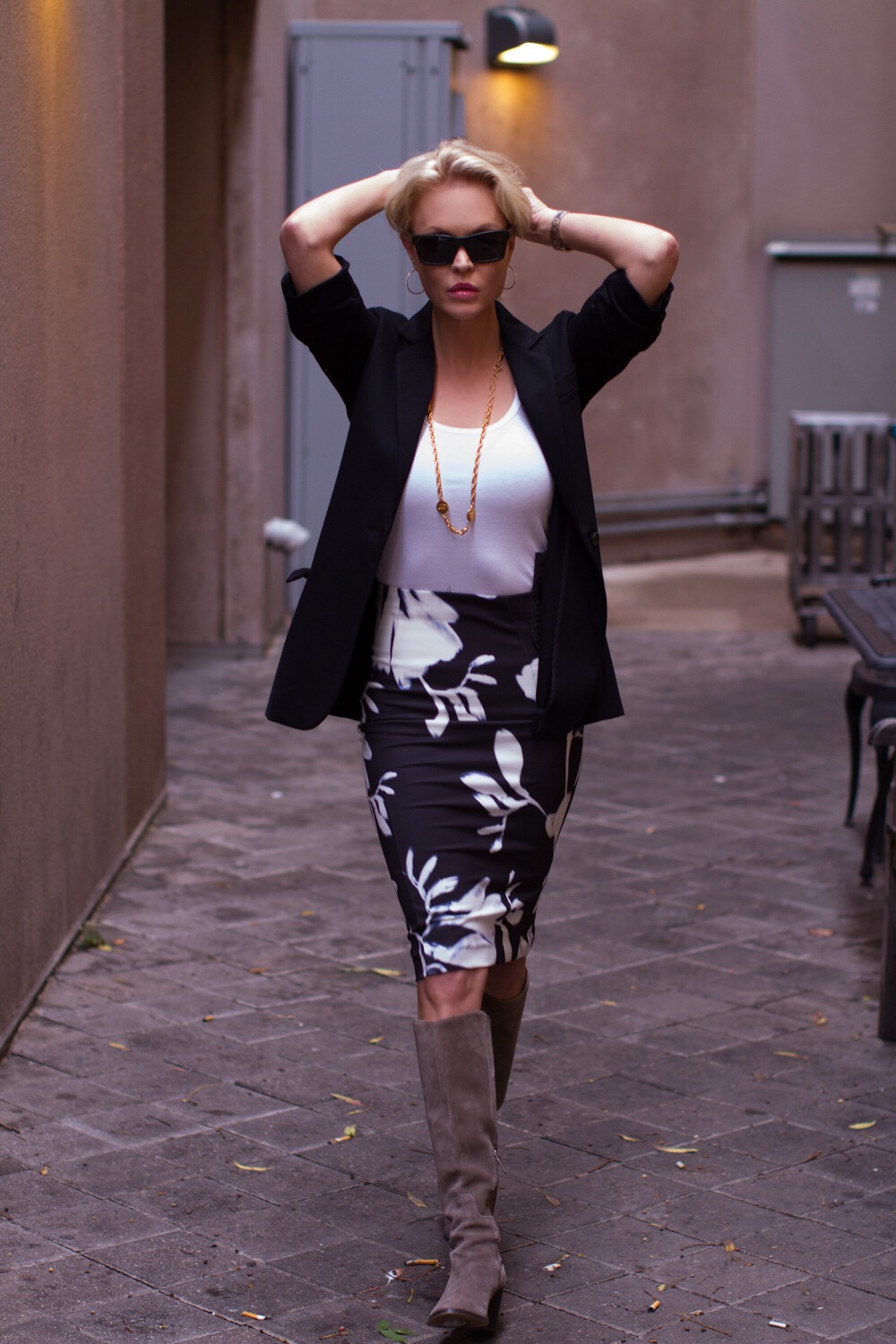 I absolutely LOVE that in Texas you never know when the temp will dip down even in spring time.
I love to be comfortable, and would trade Uggs for my boots if comfort was the sole (ha) purpose.  But, sloppy doesn't cut it when you're out in about in public. Everyone's is town celebrating with families and it's tragic to run into your high school nemesis wearing sweatpants. With dog hair. Yeh, it happened. However, what I DON'T want to do is overthink my wardrobe.
There's a happy medium when switching from yoga pants to Chanel, so I like to call this high-low.  Not just budget wise, but business casual redefined: classic, simple and elegant.
Classic: a pencil skirt and blazer will never, I'll repeat NEVER, go out of style.  I found this H&M pencil skirt that fits like a glove.  Online ordering makes it impossible to try on before buying, so after lucking out, I bought 3 more identical skirts in different patterns. Did I mention is under $13 bucks?
Simple: Make all your clothes the same basic color scheme.  I have a fascination with bold colors in all prints and patterns, but those one piece wonders only go so far.  Navy, black and white can be worn in multiple combinations, and who doesn't want to get more wear out of a piece you splurged on?  Bonus:  simple color scheme makes travel packing much easier.
Easy: Don't overthink your accessories.  Think WWCD—What Would Coco Do?  Less IS more.  This vintage Chanel necklace I scored on TheRealReal.com.  Shop the necklaces here.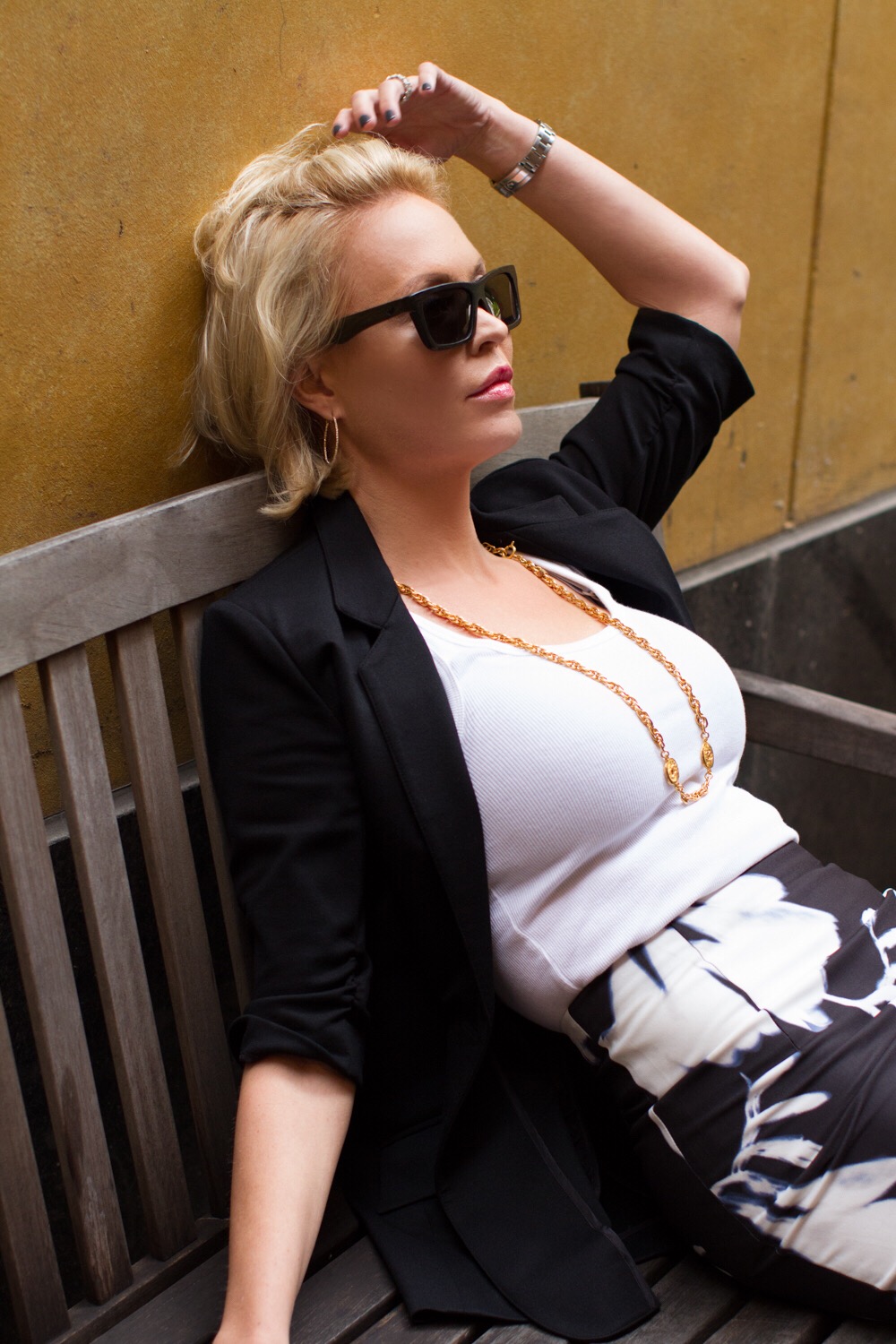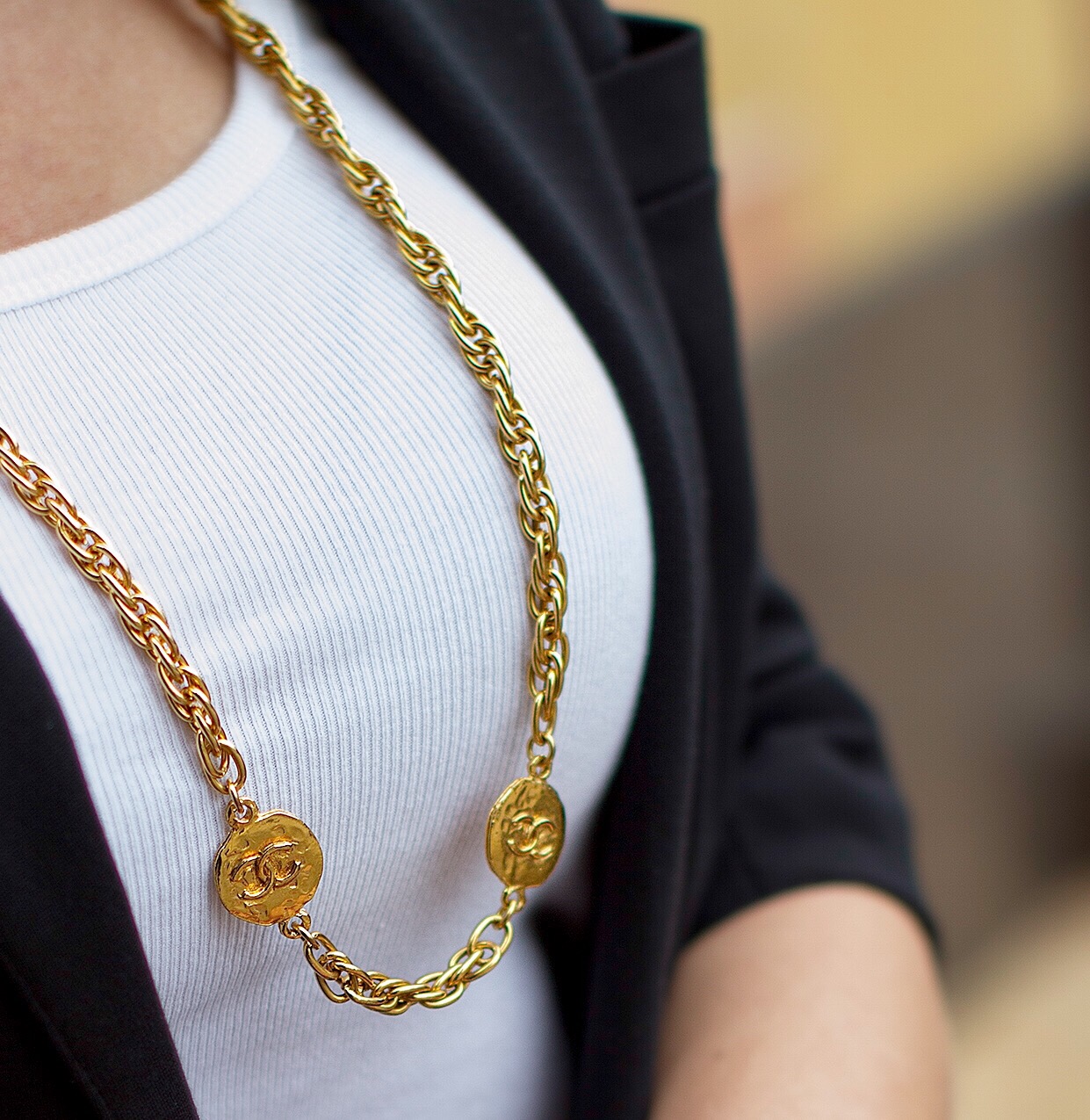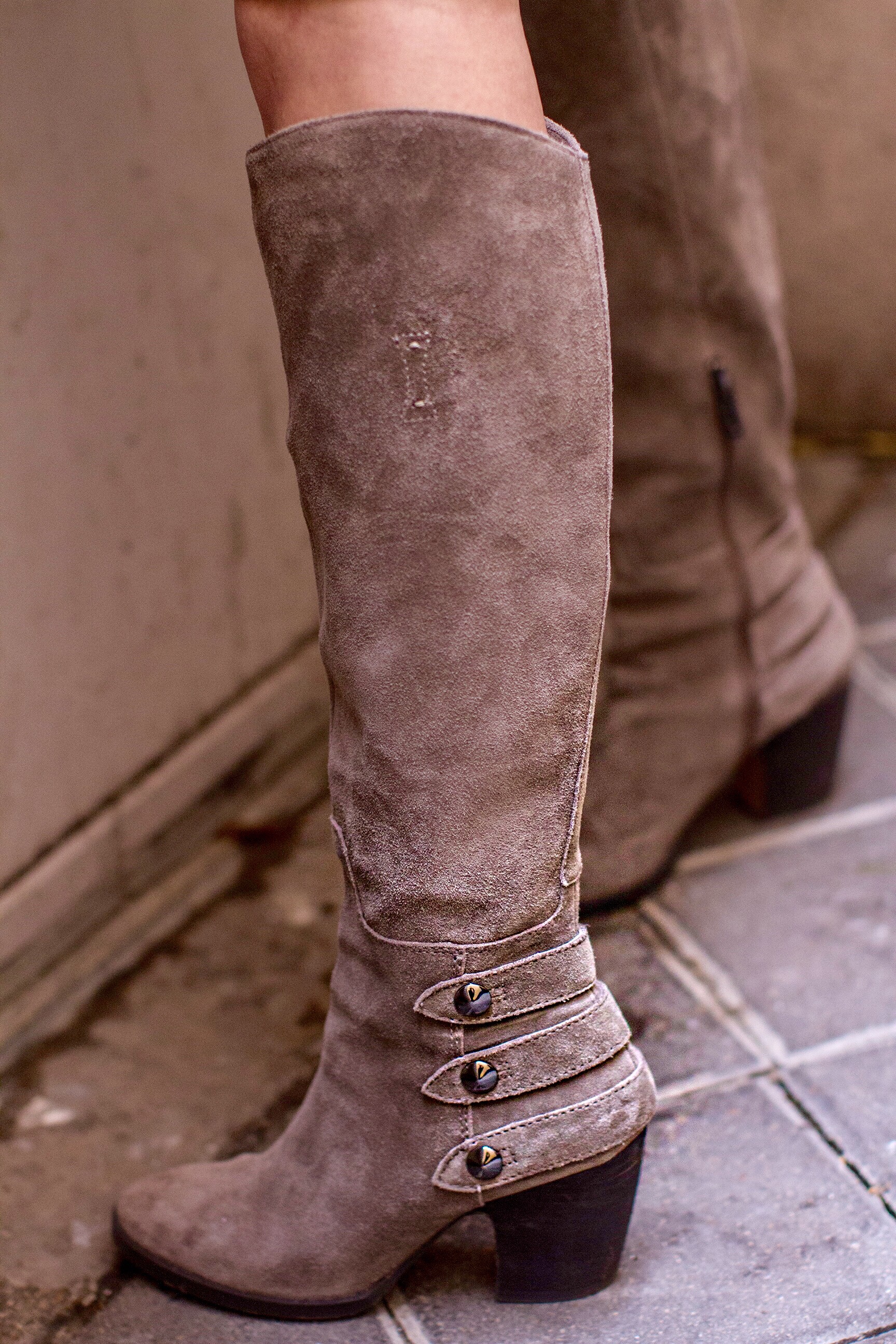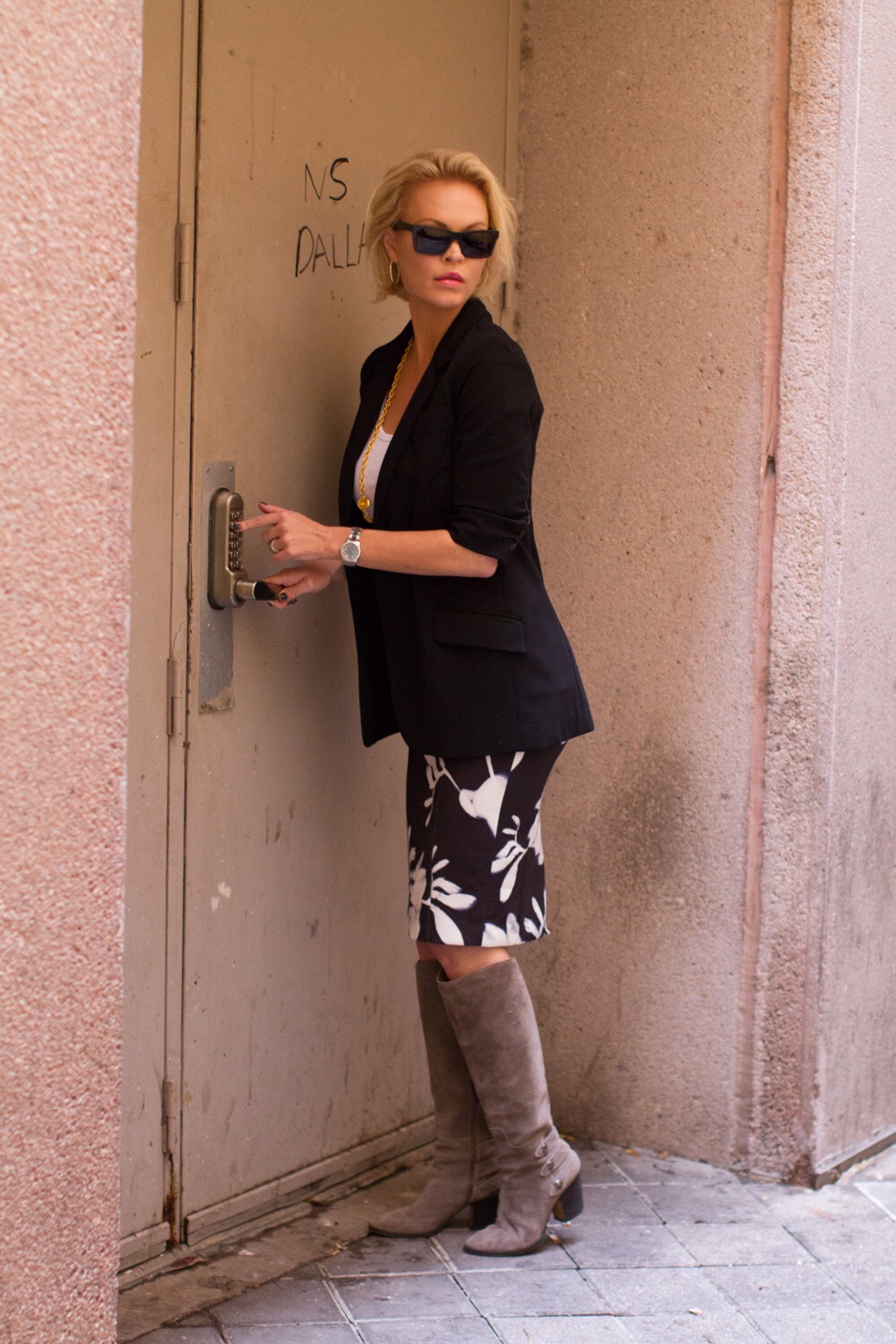 Shop here: jacket, boots, skirt,
Remember, the right outfit can open doors.  PROPORTION is key: the jacket creates a long line which compliments the long skirt.  Same jacket with a mini skirt? Only if your being ironic with an 80's look.  (Which is NOT ironic if you're born close to the same decade.)

What is you're favorite go-to classic uniform?  Your version of business casual redefined?  Sharing is caring….tag me #ShadesOfBruise @hellowhitneyXO