I've been flipping through the gossip mags publishing pics of celebrities like Miranda Kerr and Victoria Beckham looking unbelievable in their airport outfits en route to wherever –  a new trend called "the airport runway" has arrived.  When I traveled to NYC I had the opportunity to take a real shot at creating fun airport outfits.  I discovered that it's a lot harder to look posh and polished like celebs seem to do so effortlessly while dealing with checking bags, ticket kiosks, and TSA.  After many, many tries, I think I have perfected a fool-proof formula for chic and comfortable airport fashion that will have you walking to your terminal like its a red carpet!  Don't worry, comfort still comes first.  Start with your favorite loungewear then amp it up with some show stopping shoes and accessories for the perfect combo of comfy and cute. And to be clear, by accessories I do NOT mean layered necklaces, stacked bracelets, and anything other then a simple ring + wedding band/ring: you DON'T want to be "that girl" in line peeling off every layer as everyone mumbles profanities under their breath.
Let's start with some inspo from the ladies (ahem, stylists) who style their airport outfits to perfection: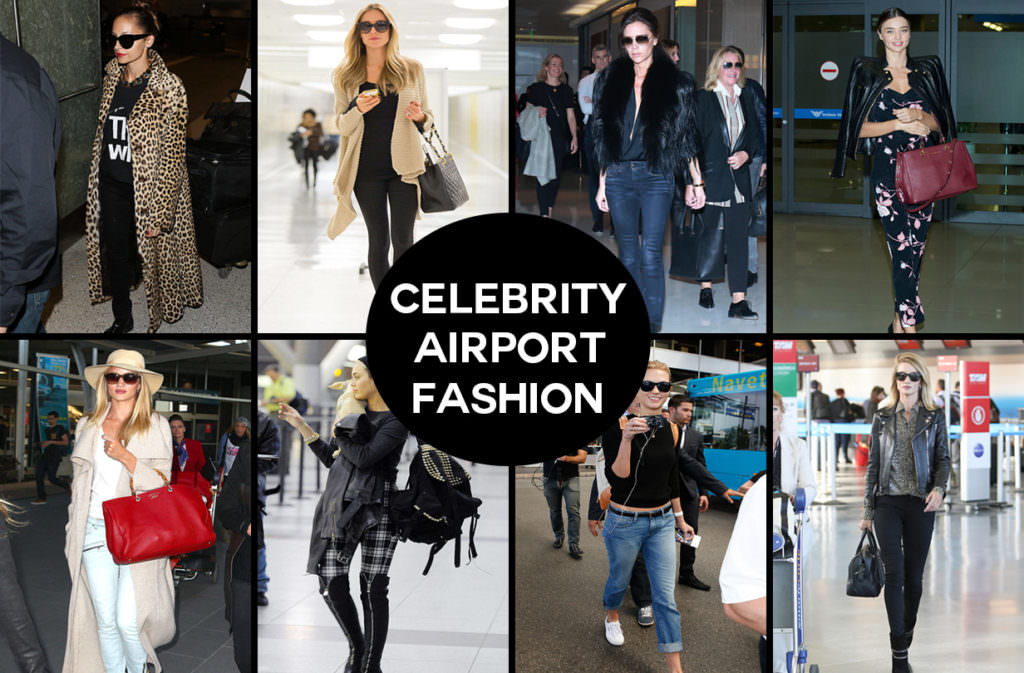 Honestly, how do they make it look so easy?  Take a close look at these examples of celebrity airport fashion and you will find a few key pieces in common. Most of them are wearing a jacket, tote bag, oversized sunnies, and stylish shoes.
1. Layer up
This is numero uno for me.  Inevitably, I'm going to freeze my butt off whether or not I'm headed to the Caribbean or Jackson Hole b/c the airport cabin temperature is always 70 degrees or below.  (that's a real statistic) Plus, Texas weather is unpredictable – so that tank top at DFW in December will require more coverage after landing.  In case you spill your coffee or red wine, don't you want the option to take that stained garment off?  Airports have this policy: no shirt, no shoes, no service.  Plus, flight crew are getting a little aggressive these days.  :/  So layering is an important factor for successful airport outfits!
2. Bag it
LADIES!  if you haven't figured out that we are allowed 2, yes TWO carry-ons, you're welcome:  I've never had anyone (yet) stop me from bringing both a TSA approved carry and backpack on board.  *Tip: shop both men and women's backpacks – turns out "man purses" ARE the new thing…for us!  I lucked out and found this iconic Gucci bag is the same design as its female mate, just a bit larger, so it doesn't look utilitarian.  God forbid we have something merely functional.
3. Shade it
This is a tricky one.  On one hand you don't wanna be carrying AND wearing bags under your peepers, yet you also don't want to stick out as a celebrity poser.  My advice?  if concealer just won't do and dark circles are going to shame your game, rock the sunglasses!  Don't forget the lips – shade those up too.  You want attention drawn to a bright pop instead of pale, de-hydrated skin.
4. Kick it
It was a sad day when I had to lay my Uggs to rest. RIP. They have a coveted spot in the darkest corner of my closet, but they're reserved for privacy: in the comfort of my home or lounging in a hotel room.  Why?  Because with the unlimited options of loungewear glam,  comfort has finally been blessed by design aesthetics.  If you've heard it once, you've heard it a million times: Athleisure, athleisure, athleisure.  Pretty much describes my relationship with working out currently – I can look the part without being sweaty and fooling people I spent the day burning calories.  Sure, some people have abnormally pain resistant feet that can walk miles in Louboutins, but I won't.  Can't.  I've been living in these Kenzo sneakers:
Below I've created a fool-proof guide on how to dress for the airport. Just grab these essential pieces and you won't look like a slouch the next time you touch down.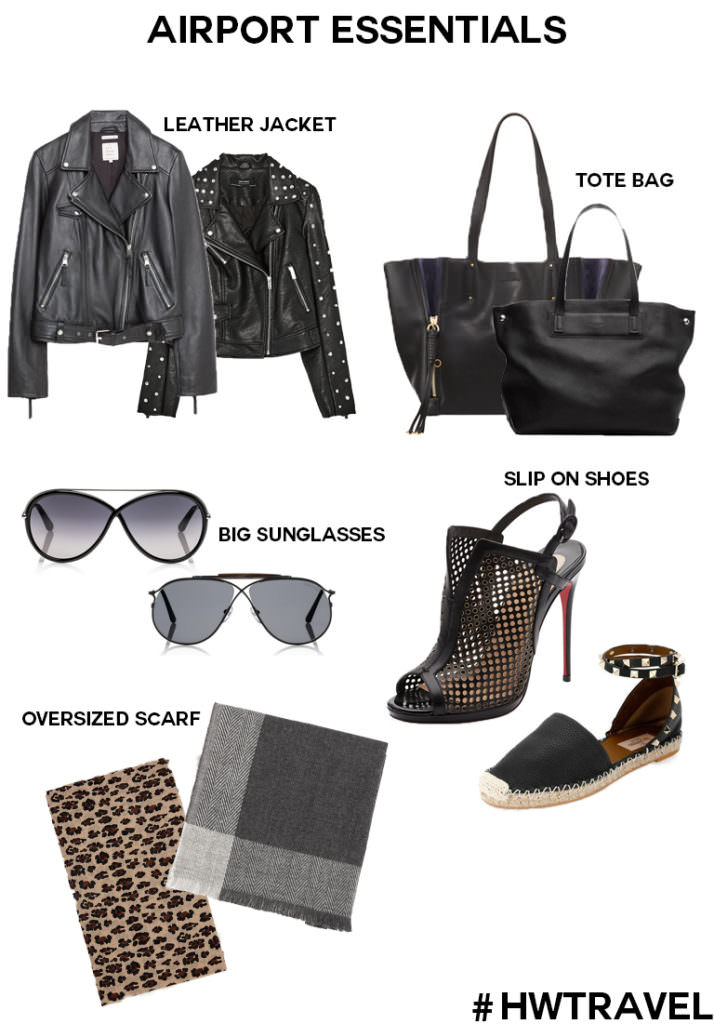 From celebrity fashion icons to everyday business travelers, with a few simple pieces anyone can create a trendy airport look. Be sure to follow me on Instagram to see how I wear my airport style and tag your own looks with #HWTravel!  Below was taken fresh off the plane to check in at the Baccarat hotel for NYFW in February.  Share your snaps!  I know you've got them…