I expected nothing less than drama from the Miss USA pageant previously owned by Donald Trump. Fueled with controversy, these poor girls were put through the ringer.  Looking like airbrushed dolls, they rocked the barely there bikini's and glided through air during the evening gown competition without tripping.  (I'm convinced they were strapped into 6″ heels as toddlers to walk that well.)
However, ratings are everything, so I'd be lying if I wasn't anticipating a wee bit of excitement during the interview round.  I definitely got it, plus more than I was hoping for.  Having experienced Miss Texas USA a very long, LONG time ago, it's changed tremendously; but I still have sympathy for what these girls endure, so I put together some lessons from Miss USA.
It's not JUST a beauty pageant:  Miss Alabama was the clear favorite of the People's Choice award's winning both swimsuit AND evening gown.  Whether or not she was the judges top pick, she clearly lost the crown when she botched her questions about the Muhammad Ali.  (more about that later)
The swimsuit competition has improved:  Yes, the tiny bikinis were still, well, tiny.  And yes, the camera was strategic to pan on certain assets (yes, pun intended).  However, MOST the bodies were healthier and stronger than years passed.  In other words, there weren't as many thigh gaps.  Also, I was happy to see the sarong cover-ups as the top 5 were announced versus the bare bikini's that usually stay on stage as they nervously await their destiny.  Not sure if this was a decision to class it up, or it was just very cold up there.  Nonetheless it's a noticeable improvement.
Here's a distinct comparison b/w Miss USA 2011 compared to People's Choice swimsuit winner Peyton Brown Miss Alabama USA 2016.  The difference is remarkable – our society is definitely seeing strong, confident women as healthy individuals.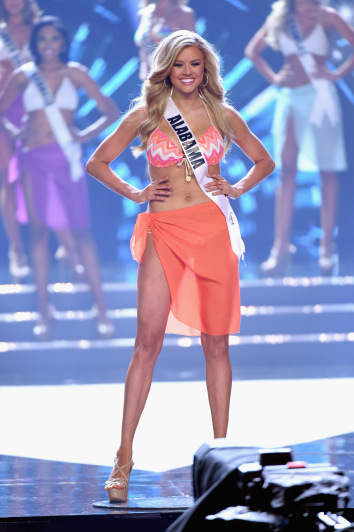 4. Columbia is not a bad word:  The most ironic event of the whole night is that District of COLUMBIA won.  In the beginning, Steve Harvey warned Terrence about doing everything possible to avoid saying the word "Columbia".  Due to his slip up last year that will forever go down as THE pageant blooper, that single word is the equivalent of saying "bomb" on an airplane.  Wonder if he thinks so now.
5.  Dodge any and all political questions:  If they are going to be stupid enough to ask politically incorrect questions like "Who would you vote for president?"  That's is completely uncalled for, and Miss Hawaii answered beautifully, however why not just say what the audience is thinking: "That's stupid, why would I answer that?  Next question please."  I bet she would've won. And, poor Miss California:  I think I would've done the same thing; except run off the stage crying.  She (kind of) kept her composure in my opinion albeit a cringe-worthy moment.  She got the last laugh:
Nonetheless, alls well that ends well:  Army reserve winner Deshauna Barber won fair and square as the beautiful, strong, and confident woman that dutifully serves this country with grace and strength.  I mean literally, she exudes Miss USA in every conceivable way.  Hats off to the people that serve our military and the women that lead with beauty AND grace.  What are the lessons from Miss USA that you learned?