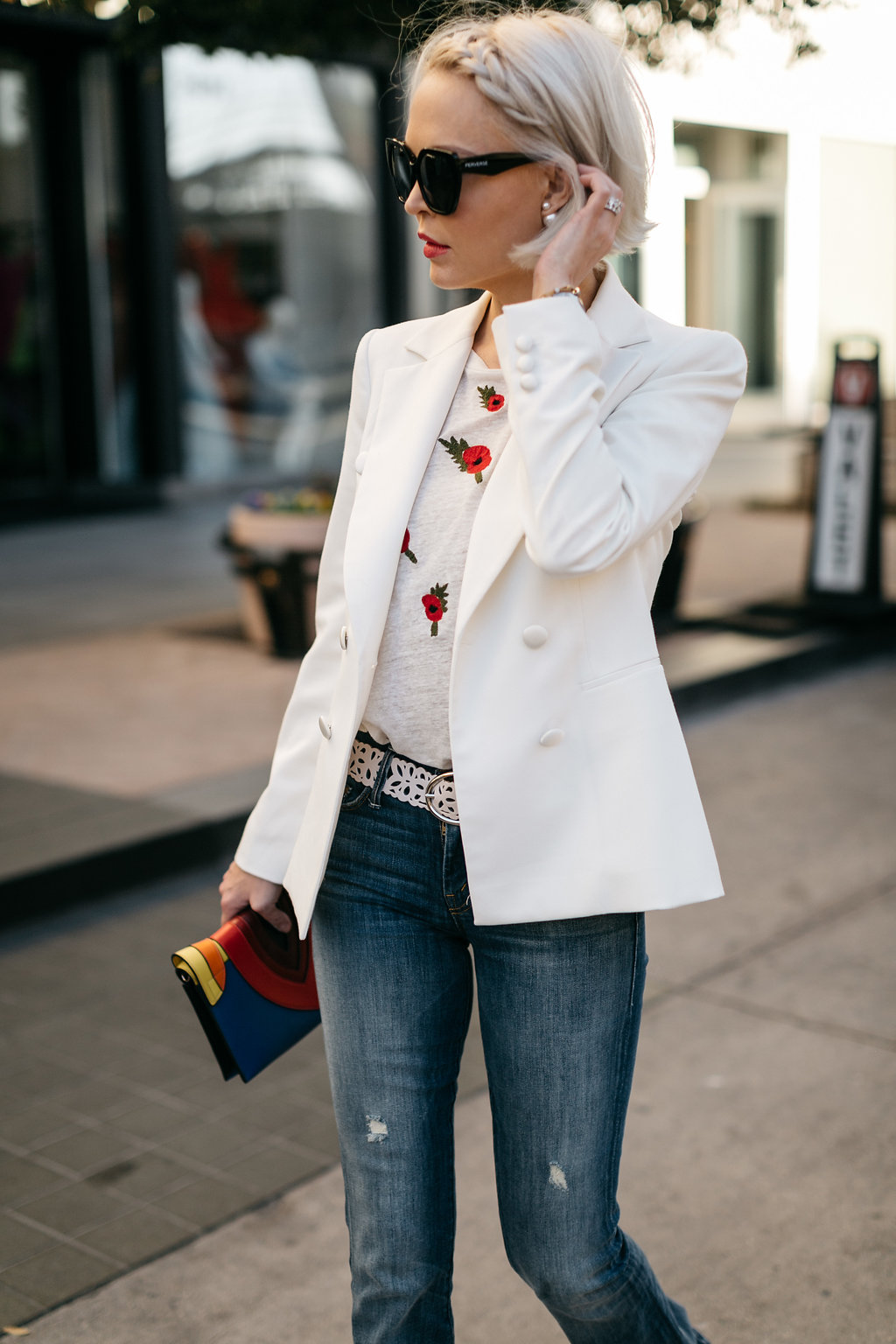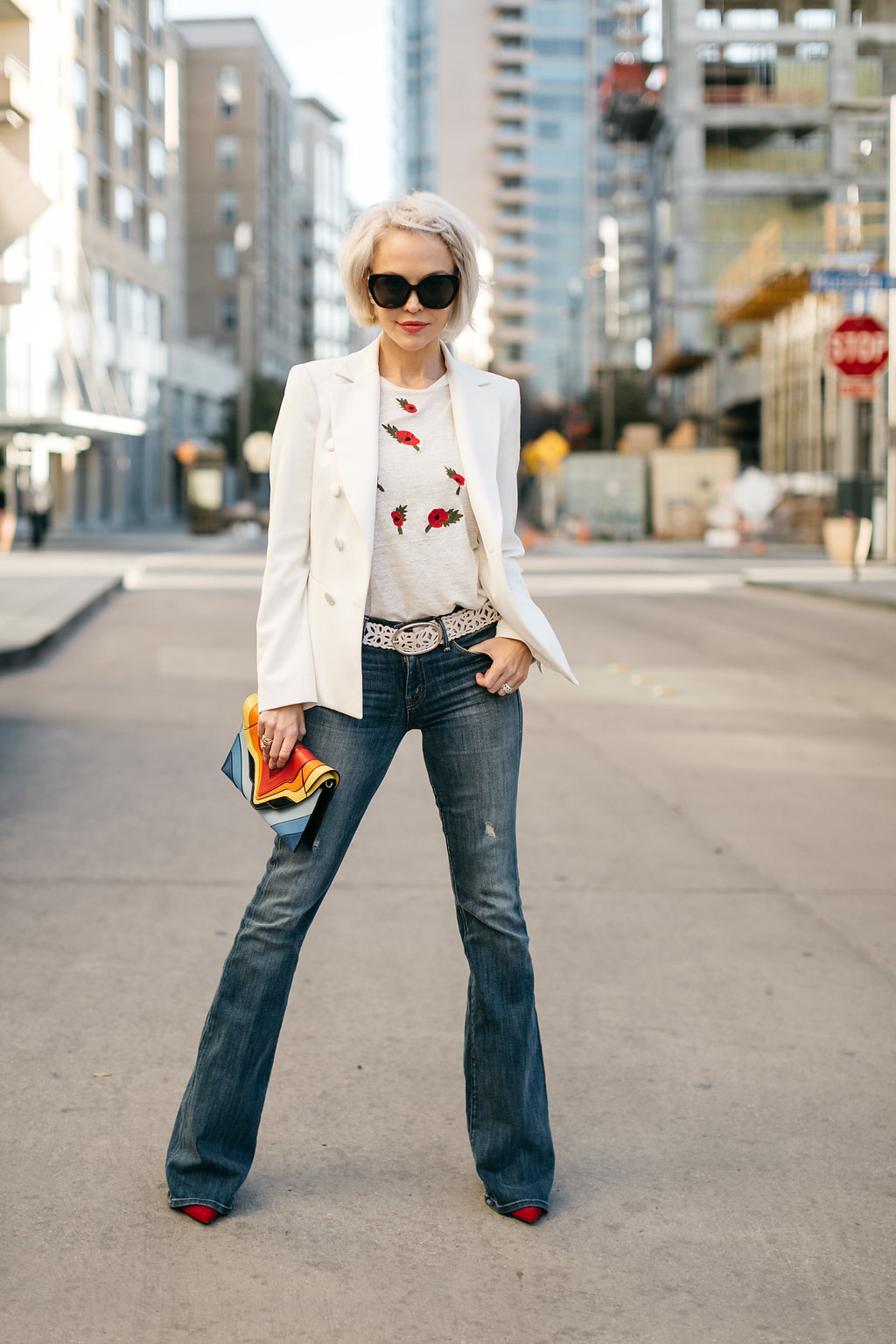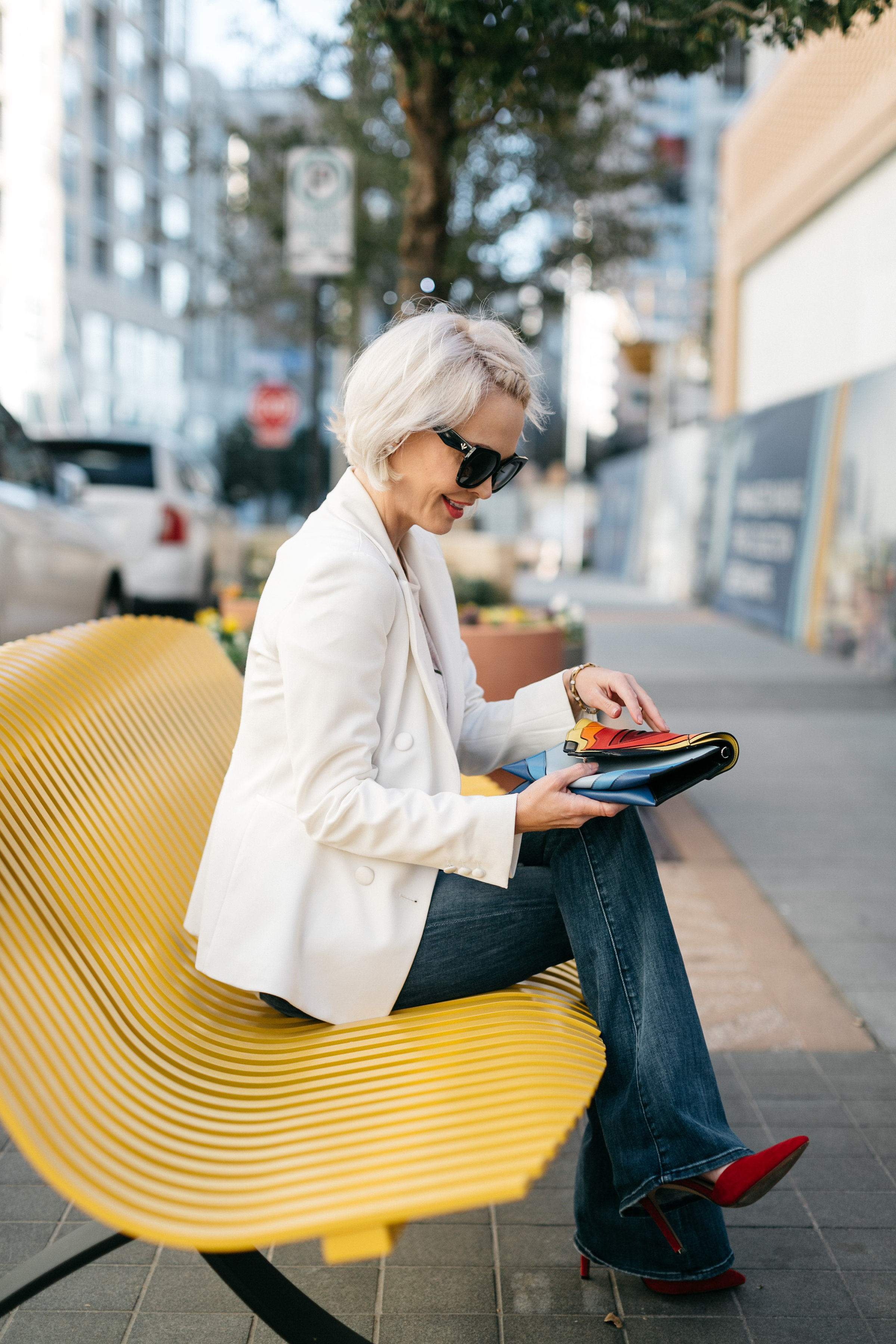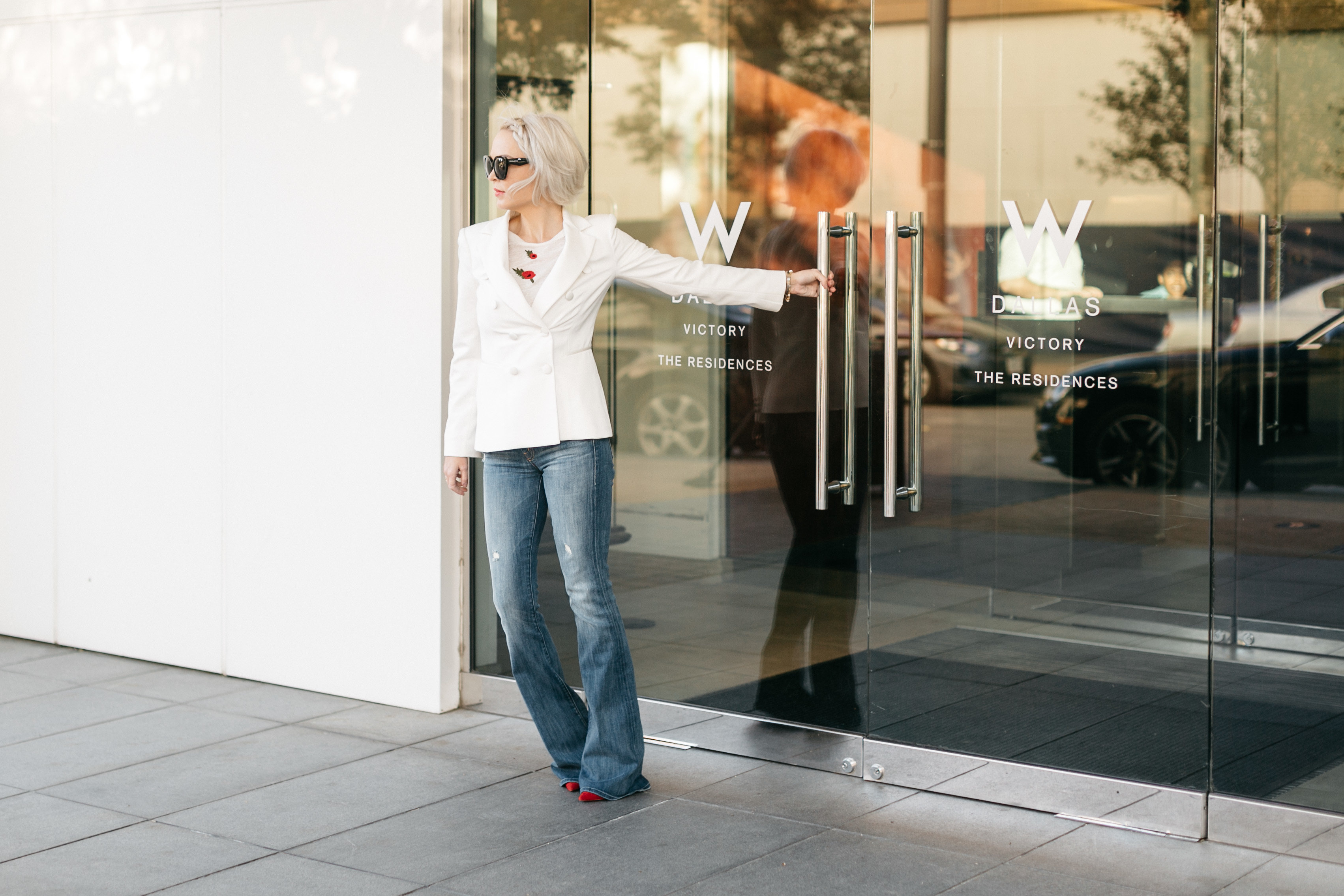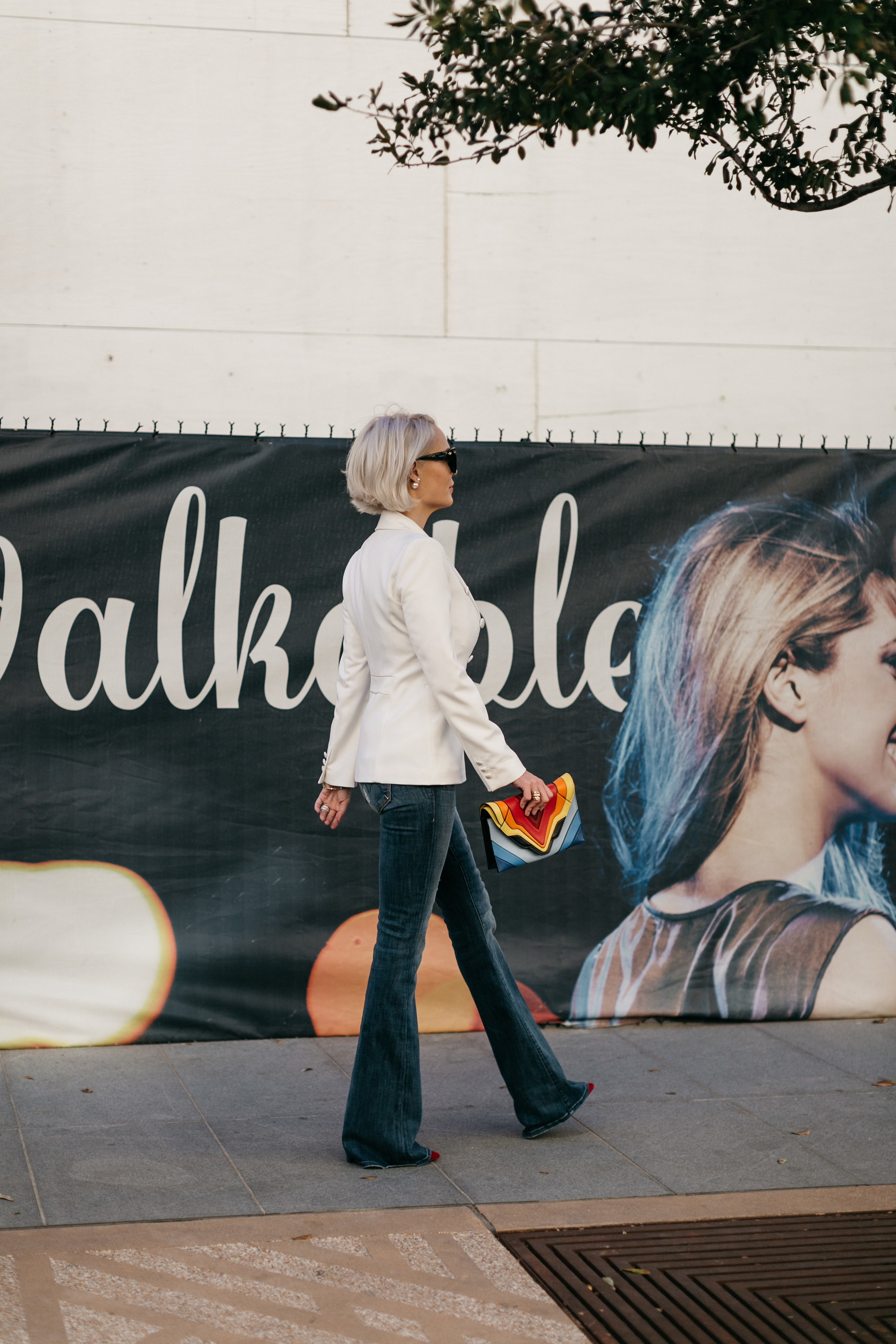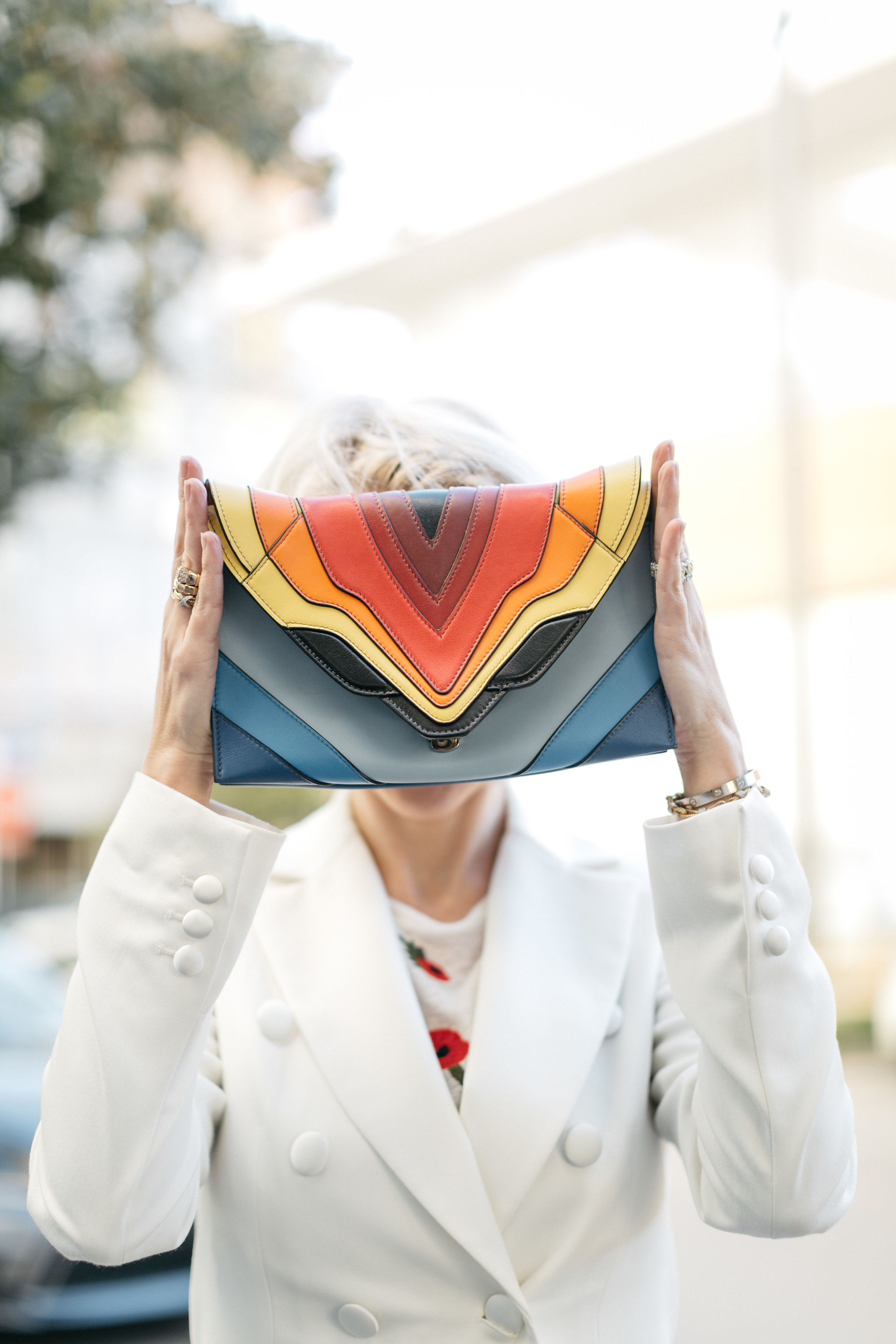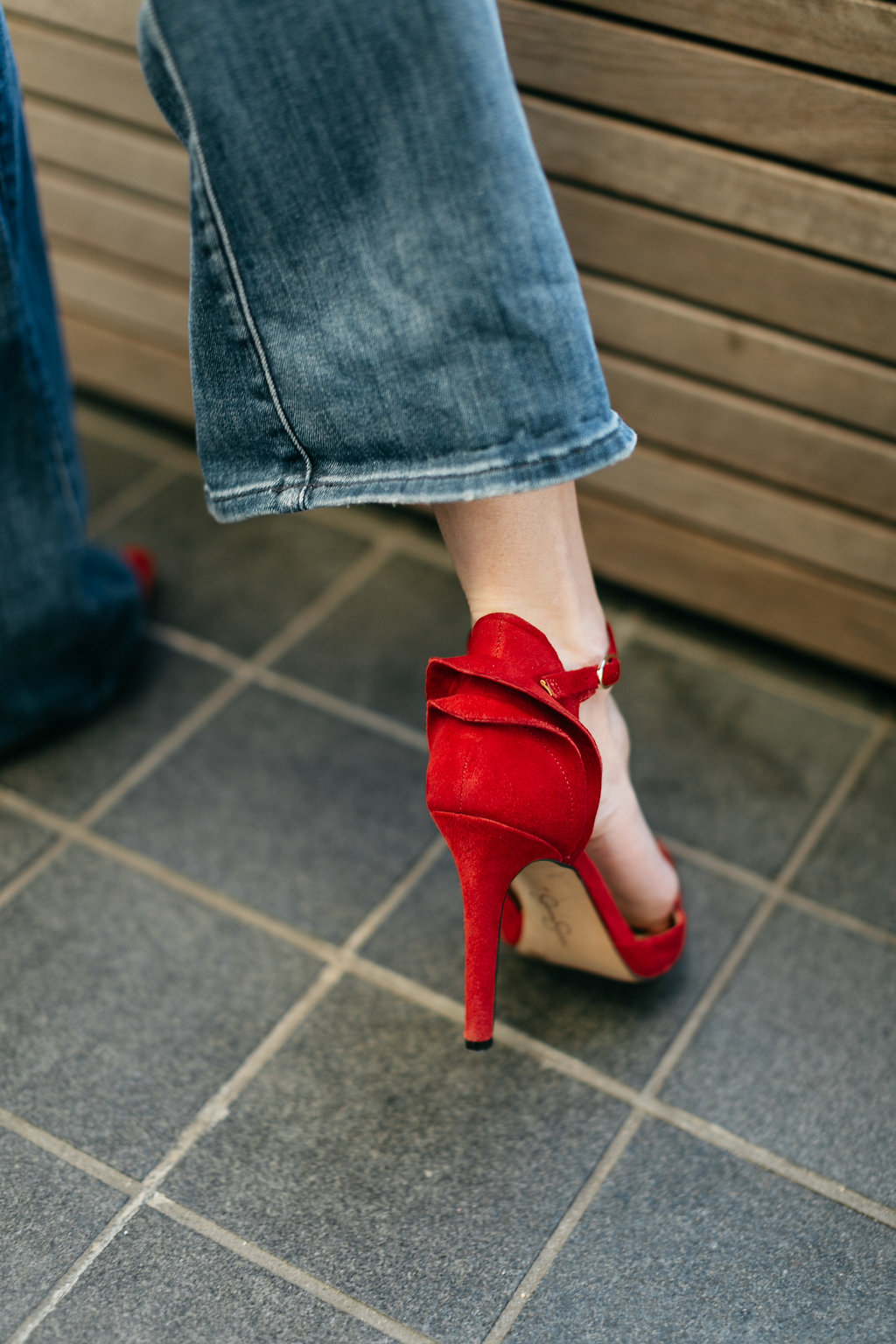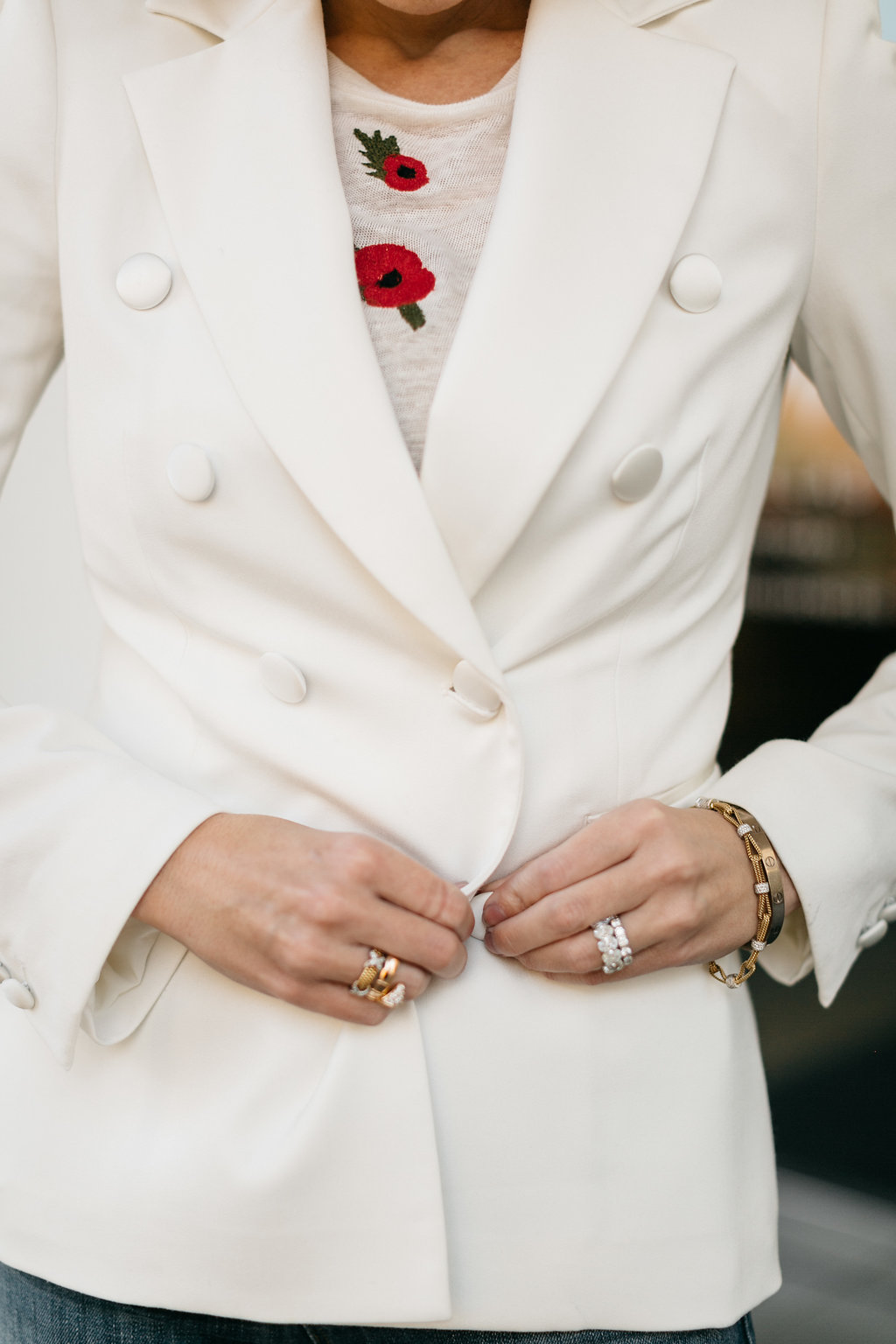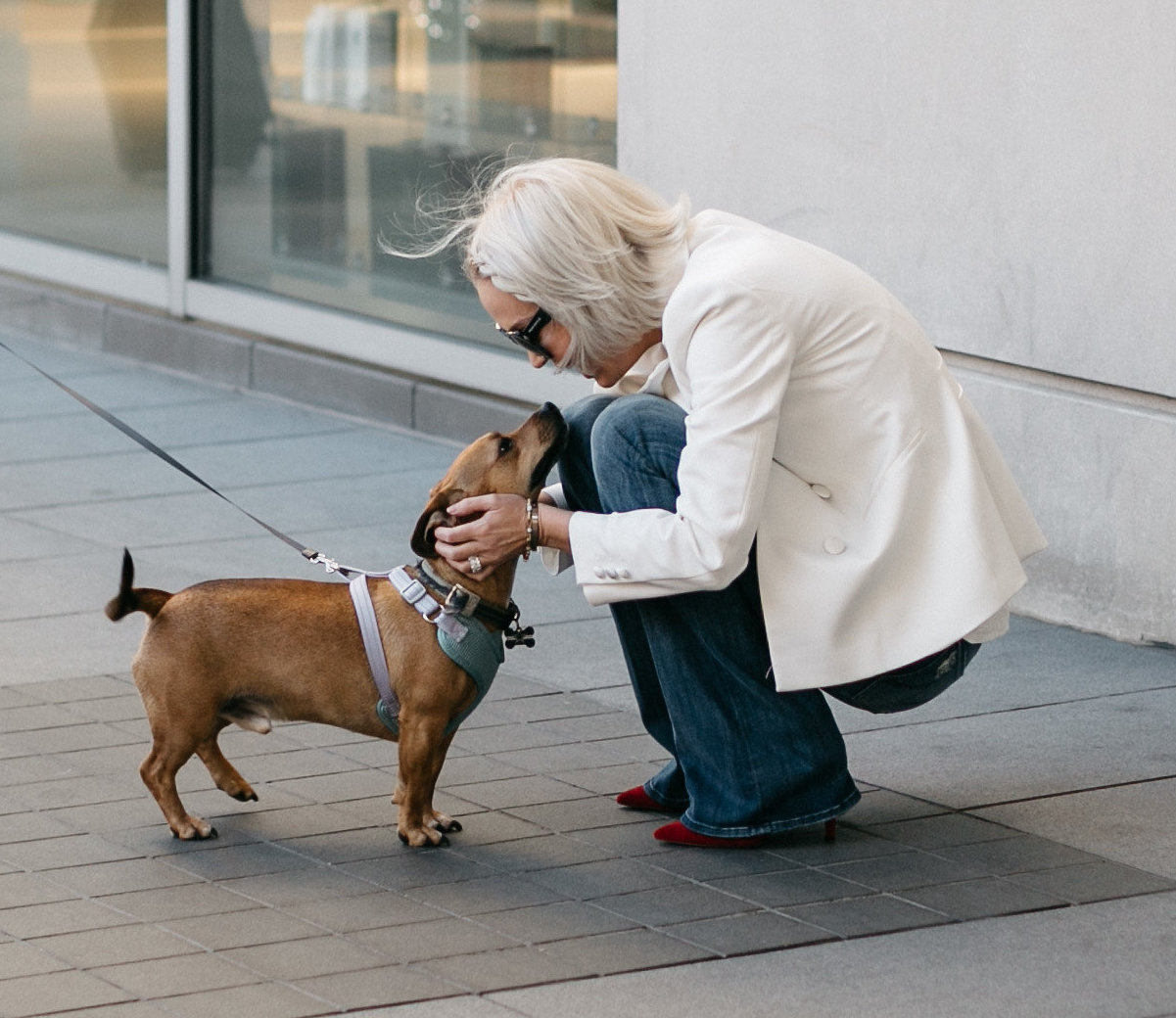 Red dress.  Red Roses.  Chocolates.  Blah, blah, blah.  If you are wondering what to wear on Valentine's day, here's a fun way to deconstruct the traditional, boring Valentine's Day outfits you see milling about white tablecloths drizzled with rose petals:  Modernize your style with valentine clothing that's fresh, easy, walkable, AND flirty!  Denim is the new black, and layering a jacket over a tee is completely acceptable attire for any restaurant, and no "attire restrictions" will keep this look from walking past the hostess stand.  Try it!
photos by Beckley&Co
MY FAV Purse / Elena Ghisellini rainbow bag 
Jeans / MOTHER the Cruiser (*half off $228 now $128)
Top / Bannerday via Shopbop
Blazer / White House Black Market (similar HERE and HERE)
Shoes / Jessica Simpson (similar here)
Sunnies / Perverse
Punches of red are a must:  Without looking like cupid himself, leave your arrow at home, but throw on some flirty red pumps.  I'm in LOVE with velvet (trend alert), and the detail on the back reminds me of rose petals – without being too contrived.  Again, stay far, far away from going full blown costume.
Denim versus black pants:  It's unexpected, it's current, and let's face it: they're more flattering!  Did you know the average woman spends 5 hours a year trying on jeans to get that perfect fit?  Think about it, how many times have you been in a dressing room studying those $200+ pair of jeans studying every angle in every mirror?  Fitted, long, and flared make this look more formal versus the distressed boyfriend style – save those for brunches on Sunday Funday.
Jacket's are a girl's best friend: This is a perfect example that the menswear trend doesn't have to be unfeminine!  With the right color, fit, and accessories – a white jacket can freshen up a whole look.  Button it to cinch and accentuate your waist, unbutton to let your hair down. (literally)  Don't choose your favorite vintage rock band tee, but instead choose a playful, feminine top that keeps the overall vibe playful.
Speaking of "playful": This rainbow leather purse from Elena Ghisellini is EVERYTHING.  It has literally changed my life when having a "I don't have anything to wear but a LBD" day.  Or,  when I have a bad day sometimes I just pull it out of my closet and look at it.  Don't worry, I don't talk to it.  yet. *cool fact: I met her at Stanley Korshak last year when she was launching her line, and not only is she amazingly cool, her background is impressive – she's designed for Givenchy and been Head Accessory Designer of Emilio Pucci before launching her own line.  Girl's got major talent. 
Plus 1:  Most important rule: No matter which special person, girlfriends, or 4 legged baby(s) you decide to love on, make sure you get at least one smooch on Valentine's Day.
Trying to impress your loved ones with the perfect Valentine's Day outfit can be a struggle, so just have fun with it! I hope y'all feel inspired to embrace these guidelines and that they help in finding cute date outfits that make you feel the love on V-Day! Be sure to follow me on Instagram @HelloWhitneyXO to catch up on all my adventures and share your cute valentines day outfit ideas. Sending you all lots of X's and O's today and always!