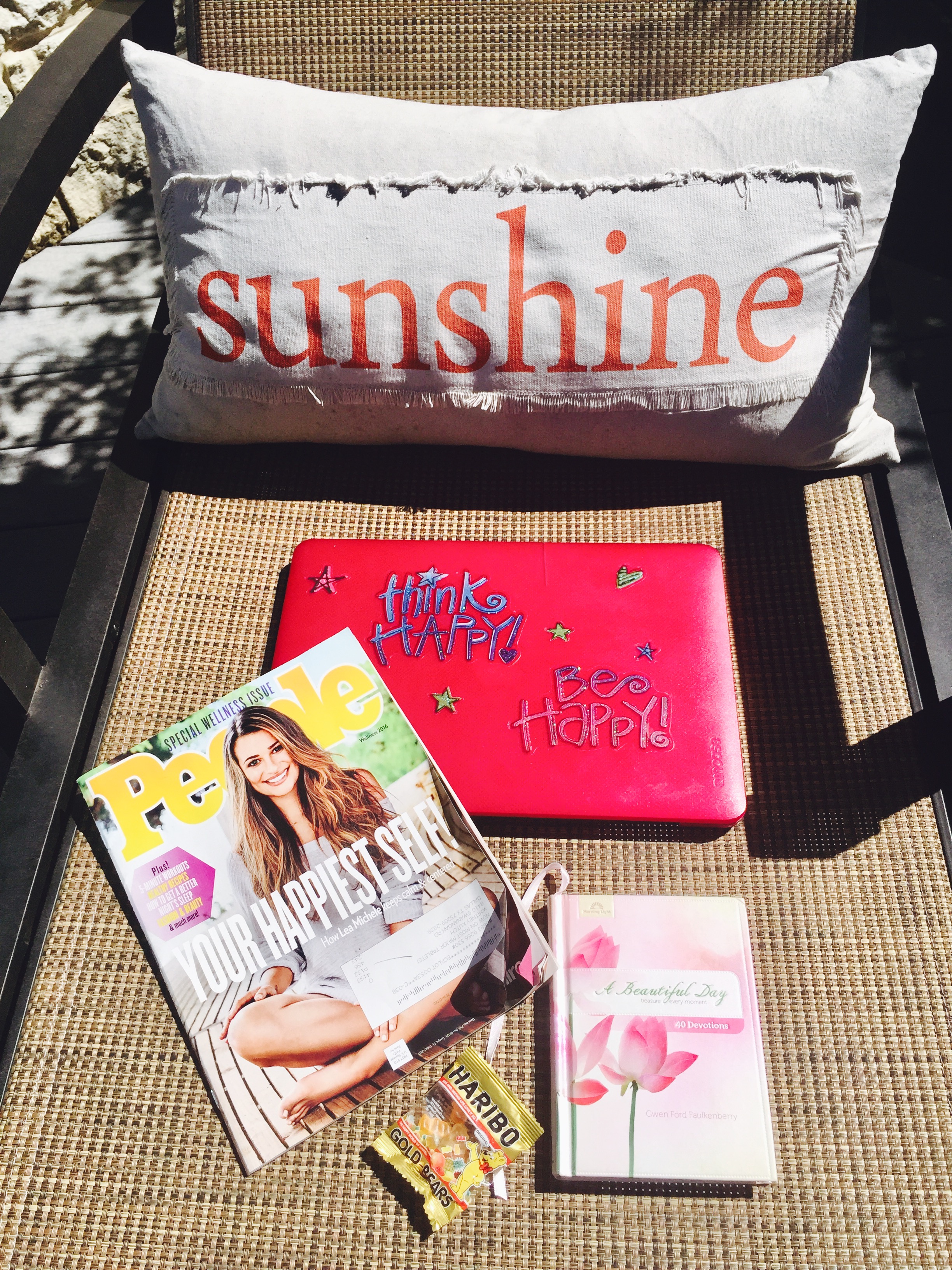 How many articles, websites, magazines are dedicated to lists and instructions and tests (yes, a happiness score) on making you more happy?  Or is it happier? Happiest?  I don't have time to check the grammatically correct phrase.  That wouldn't make me a happy lady right now.  Oprah has her own "O" magazine with her smiling face promising happiness in your life if we buy it and read.  Problem is, I have a stack of her face (on every cover) that I've never opened to find out her secrets on how to find happiness.  Don't get me wrong: I love me some Oprah.  She's perpetually the person that I include when asked, "who would you include at your dinner party out of everyone in the world?"  It's always her, Angelina Jolie, Jennifer Anniston, Amal Clooney, Britney Spears, Olivia Palermo, Anna Wintour, Marilyn Monroe, and Audrey Hepburn.  (I take the liberty of including people that are no longer alive.)  That list has never changed, and it never will.  It includes fashion icons, movie stars, powerful influencers with a dash of drama.  Who wouldn't be so so happy watching Ang and Jen squirm sitting next to each other, perhaps even bashing  Brad while Britney and Marilyn are getting drunk together. It would be a whole lot of crazy to keep me laughing forever.  And, it would be the first and only time I wouldn't get a word in edgewise. That, in and of itself, would be a miraculous spectacle to witness.
Which takes me to my first point on what doesn't make me a happy lady:
I DON'T do boring:  I hate same ol', same ol'. This is happiness to me. If you've heard me once, you've heard me a million times:  I'm ADHD to the max.  If you know me, God bless you, you deserve a gold medal to follow me on random tangents, straying from the conversation leaving people that don't know me convinced I'm half-insane.  Maybe I am.  But, that makes me interesting!  (Their definition of crazy = my definition of interesting).  Everything's relative, folks.  However, I don't need hyper stimuli, movies with intensity, or constant live streaming.  Ironically, I am probably one of the most content people being a couch potato and getting foot rubs for hours.  However, you get me in the room with a powerpoint presentation and if the person isn't cracking jokes or showing personality, I'm outta there.  Not necessarily physically leaving the room, but mentally – I've checked out.  I have to see an authentic personality inside a human being, otherwise, they're just a robot.  Nothing wrong with that – there's a lot of good, upstanding robots all around us that are probably better citizens than me;  And perhaps, I'm not drawn to people with a little crazy because, let's face it, they wouldn't get me.  Like attracts like.  So, find your peeps and fly your freak flag, happy lady!
I DON'T do early:  I've tried and tried to become a morning person for numerous reasons: First and foremost, my husband is an early riser (and it's inevitable that morning people are happier when I'm still sleeping).  Secondly, I miss a lot more daylight than I would by waking earlier.  Finally, sleeping in means getting to bed late.  Really late.  I'm not on the same time clock as most people, yet another thing that makes me different.  But, I've learned to accept my vampire hours.  I've learned that forcing myself to get up super early does NOT make me any more efficient than if I had slept a little bit longer 'til 10:00.  Truth: I'm a night owl and I'm more productive at night.  With technology today, you can do just as much at night – answering emails, writing blog posts, cleaning house, even texting people.  (Did you know there's an app Delayd that let's you schedule your text to be sent the next morning? Or whatever time you want them to receive it?)  Brilliant!  Furthermore,  even though 99% of 'those' articles say early morning workouts are the best,  I am much more energetic and in the mood to burn more calories if I work out a little later.  I know my daily time "sweet spot"…do you know yours?
I DON'T do flats:  I recently had a depressing 4 months of my life taken away – without heels.  Forget the pain of the sprained ankle – it literally killed my fashion game all. summer. long.  Someone asked me the other day what was worse:  Not working out or having to wear a boot?  That's easy:  NEITHER! My life without heels (not even wedges) was paralyzing.  There are absolutely no flats that will ever do a cocktail dress justice.  There is no way I was going to spend thousands of dollars to hem all my pants.  There was absolutely no way I was going to spend thousands of dollars buying new clothes.  (well, not for that purpose anyhow.)  I found myself dwarfed by long limbed, statuesque friends that were really, 4-5 inches shorter.  I got lost in crowds a couple times b/c I couldn't look over the giants in front of me.  Worst of all?  Feeling drab was an emotional downer. I am embarrassed to admit that I broke down in tears in the doctor's office saying it had caused fashion depression.  He didn't know what to say, not that I blame him; his next patient was a professional athlete, so my complaint was pretty petty.  The struggle is real!
I DON'T do eyelash extensions:  I recently had a friend notice I was wearing fake eyelash strips (a la Walmart), and proclaimed, "OMG – you look amaze!  You should wear those all the time – why don't you get extensions?"  I loved her honesty.  She wasn't saying, I looked bad with just Loreal Voluminous mascara, she was stating the obvious:  Who DOESN'T look better with fake lashes?  Everyone Most women want to look like a (natural) glamour queen.  It makes that 'No-makeup makeup' really good.  My problem is the upkeep and not being able to wash your face.  Delicately using a q-tip to dab the makeup away?  Come on – that stuff stays caked on for days!  Not to mention that it's uber expensive. (especially when you cheat and use makeup remover to get that smoky eye off.)  Furthermore, I must be allergic to the glue or my eyes are just sensitive.  I'll trade luscious lashes any day over red, puffy eyes irritated for days.  Bonus:  i save $300/month and that money saved goes to shoes.  Or highlights.
I DON'T do resentment:  If there's one piece of advice I can give you, it's LET IT GO!  (cue the Disney Music.)  I still haven't seen Frozen—prime example of tangent.  Back to topic:  Fortunately, forgiveness is one of my strengths and I believe God granted me that gift because I'm probably the most sensitive person you know.  I get my feelings hurt, I cry.  Someone wrongs me, I cry.  I hurt someone, I cry.  I'm the first to ask for forgiveness even if I didn't do anything – I'm working on that, because self-blame and taking responsibility for someone else' actions is not healthy.  However, if the pendulum is to swing either way, I'm glad I fall on the side of giving grace.  People don't "deserve" grace, but we are told to forgive even if the person doesn't ask for forgiveness.  Isn't that crazy?  Are you mad at someone? (Duh)  Try this:  Write down how they hurt you.  Write down how you feel.  (don't hold back – all the horrible, cursing, catty things you would throw back at them.)  And then PRAY FOR THEM which is harder than moving onto the next step of forgiveness.  This doesn't mean you have to pray for them to win the lottery or fall in love with Prince Charming.  Don't go overboard asking for blessings that don't truly come from your heart.  But, pray for something, anything, that isn't about you and your'e convicted about.  For instance:  Someone lies to your boyfriend and tells him you're cheating on him.  WOW!  Unforgivable, right?  Wrong.  Forgiving her doesn't mean to allow her back into your life; It means that you are not allowing her/him to steal your key to happiness/joy.  You are free from the resentment that you want to hold on to.  When you let it go, you won't feel the weight to punish, retaliate, and consume your life with anger.  In that case, I would pray for peace in her life, b/c she has a lot of turmoil and sadness she's trying to transfer to you.  Let God handle it, and you can be a happy lady no matter what.  Without her.  She's toxic so run far, far away.
I DON'T do self-pity:  There are days we receive news that is devastating.  Or, for some jealous people, they receive good news that sends them reeling.  If we let that one bit of info steal our joy, then you're not focusing on the other 99% that you're beyond blessed to have. This isn't happiness. I'm not being preachy – I've fallen into this rut, and it's kept me there for days, weeks, or months.  We lose sight of everything else good in our life, and focus on one little aspect that we THINK will change our entire life, destiny and purpose.  You know what helped me be a happy lady?  Realizing that happiness is a choice, and in the whole scheme of things, it won't change my life unless I let it.  We are thrown curve balls every single day to test our persistence, endurance, strength, and attitude; and we've all heard the cliche: "God doesn't give you anything you can't handle."  There's actually a verifiable reference from where it was derived in the Bible:
1 Corinthians 10:13 "No temptation has overtaken you except what is common to mankind. And God is faithful; he will not let you be tempted beyond what you can bear. But when you are tempted, he will also provide a way out so that you can endure it."