Everything is bad for us. The wrong food, soda, or even plastic is said to cause cancers and have terrible effects on the body.  (does anyone remember when red M&M's supposedly caused cancer?  Was that just my mom scaring me away from sugar?)  But, seriously – with new recalls every day, (did you hear about Nutella???  Gawd, I must be hungry) it's confusing to know what's best for your health.  I hear about new studies every month that make me feel like I am doing things completely wrong.  So, I started doing some research on how I can treat my skin (the largest organ in the body) with more RESPECT.  Lets get one thing straight: I LOVE MAKEUP.  I am definitely not trying to give up my fun lip colors and eye shadow pallets for dull, earthy, organic stuff.  Much to my surprise, I am not alone in my search for healthier yet still glam products. It turns out you can still be a beauty addict and also health and environmentally conscious thanks to some new companies in the beauty industry. Organic lipstick comes in all shades and colors, natural mascara can actually keep your eyes from wrinkling, and organic face moisturizer keeps those pesky breakouts from ever happening!  Inspired by a new and amazing beauty company – Honest Beauty, (Jessica Alba's new venture from baby formula into cosmetics) I did some R&D on other similar companies that produce some of the best natural products you can trust while not jeopardizing the true coverage and pigmented color.
Having trouble figuring out where to start improving your health?  I suggest throwing out any lipsticks or face products that have harsh parabins, sulfates, and fragrances which irritate your skin and cause serious damage.  CosDNA is the Google search engine for all beauty/skin ingredients.  Go the website and type your product in the search bar to find all the ingredients lurking in that innocent looking bottle.  It's a life changer.
We spend so much time and money trying to make our skin look good, I think it's time our skin feels good as well! SO…drum roll please…below are a few companies that make to-die-for beauty products full of yummy things for your face! Keep scrolling and I've listed a selection of my absolute must have products from each line. I hope you enjoy and embark with me on a journey toward treating my skin and face better!
Honest Beauty is an offshoot of Jessica Alba's product line for children, which uses all organic and clean products to create top of the line makeup and skin care.  In essence, she's expanding from baby formula to lipstick.  Who better to be the flawless face of beauty, then Miss Alba herself?  As a celeb, it was important for Alba to create something that mirrored the top trends and products of the industry; so she consulted with many makeup artist to cultivate a perfect product. I love so much about this company – from its owner to its purpose, the product line is something that I can totally get behind.  Right now I am lusting over their lip crayons, glosses, and eye palettes. Honestly, they have the best natural products. See what I did there?
When I think of Lush I think about glorious bath times because they make the most amazing bath bombs that smell so incredible.  Did you know they also have the best natural lotions, organic eye cream, chemical-free body wash, and chemical-free skin care?  But beyond organic bath products, they have a complete line of skincare and makeup that is good for your skin. The best products I have tried are their face masks, lip tints, and foundation.  A huge plus? They are pretty cost effective and can ship internationally. Trust me with this one: you will be hooked!  If you're feeling adventurous, try their product Dark Angels, it is seriously the best chemical free skin care on the market.
I'm going old school and chances are you have probably heard of Aveda for the minty fresh natural hair products; but, they actually have super eco-friendly makeup options too!  I love their eyeliner that stays put all day and creates a super smoky look.  My eyes are super sensitive, so finding a good kohl black that doesn't irritate is gold.
Glossier is a super trendy New York based company started for women of all ages who want to have fun with their products.  Their logo says it all:  "Beauty in real life – Skin first. Makeup second."  Brilliant.  Half of the fun of getting a glossier product is the packaging – it is simply ADORABLE!  I would suggest starting with their lip balm- Balm Dotcom: it's a cult favorite that's like an Aquifor. but better. Their milk jelly cleanser is a close second.  It is all organic and even contains oils that are meant to nourish and tighten skin naturally. Yes, certain oils are GOOD for you.  *A little trivia for you: the company was started by Emily from the Hills, that super amazing intern who always outdid LC.  Looks like she really made a name for herself outside of MTV and has the best natural product line yet! You go girl!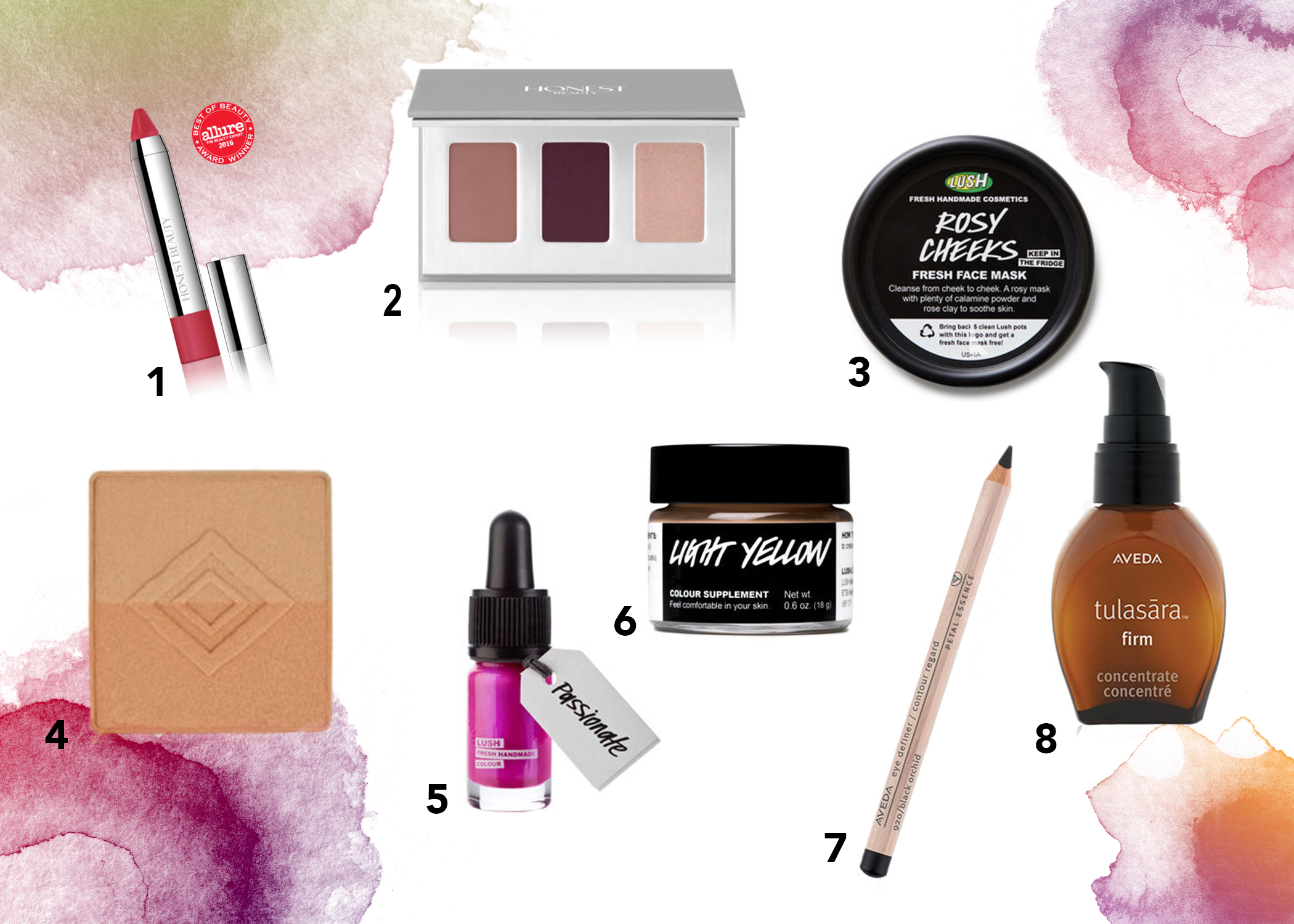 1. Lip Crayon // 2. Eye Compact
3. Rose Face Mask // 4. Bronzer
5. Lip Tint // 6. Foundation
7. Eye Crayon // 8. Firming Concentrate
Have you tried any of these products yet? I am so curious to hear any suggestions on how to keep my makeup and skincare routine healthy and what you think the best natural products are, so send me a comment here or at my Instagram @HelloWhitneyxo. I will keep you guys updated on my honest beauty journey, and hope that you find some of these companies/ products to be just as alluring as I do! As always…