I'm obsessed the French style and the quiet allure of these beautiful, talented ladies.  Model/author Caroline de Maigret's outlines 3 unique qualities of Parisian women in her book: How to Be Parisian Wherever You Are: Love, Style, and Bad Habits :
1. never try to be friends with their children.
2. never work too hard on their appearance.
3. never have overly white teeth.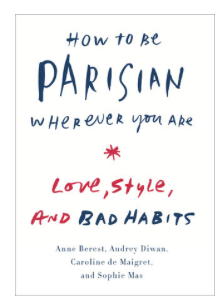 Saving the best for last, here is an icon I aspire to become an American blogger with influence and grace:
Garance Doré
This past November, 2014, at Chicago's Museum of Science, she was the first blogger EVER to be honored with the Fashion Inspiration Award.
Starting in 2006, she has revolutionized french fashion blogging as an empire by collaborating with luxury brands like Dior, Louis Vuitton, and Chopard.  
"It's about style, but about style inside and out – not just fashion."  Garance Doré
Sounds similarly intellectual from another French fashion female icon:
"Look for the woman in the dress.  If there is no woman, there is no dress" Coco Chanel
These words from Doré remind me to trudge forward: "I know it now, it's been eight years. But I always remember when I started, it was just me, my illustrations and my computer. I wanted to share what I had without even thinking. I used what I did best which was at the time not that much. I had taught myself a little HTML, the language in which you write Web sites, and I knew how to draw. I also loved fashion, but I never had thought anyone would want to hear what I had to say about it. Still I decided to give it a chance,"
And here I am.  Just me and my computer.  Let's see what happens.