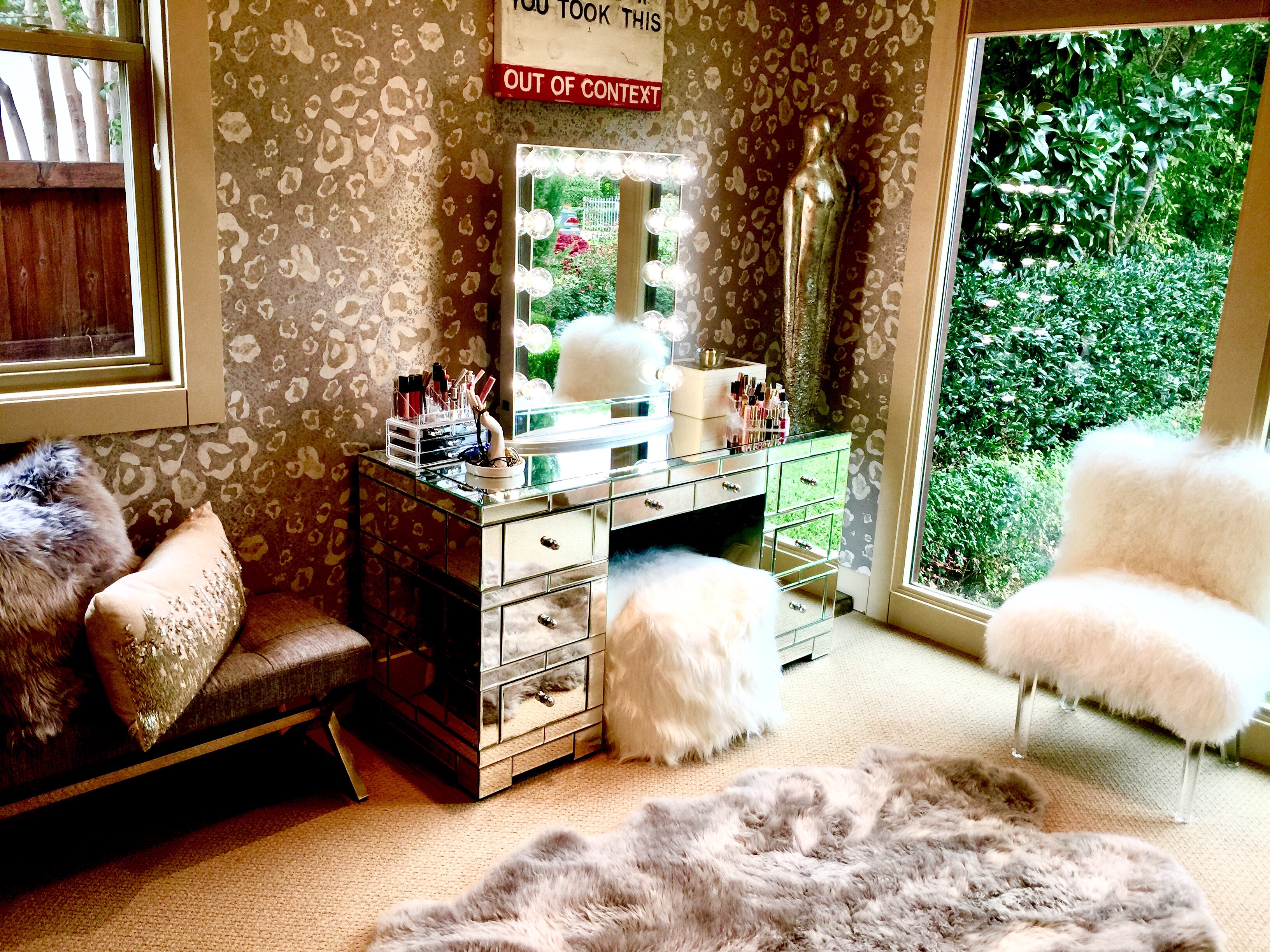 Beast.  How can such a lovely word turn into an ugly monster?  Unfortunately, most of us – guilty as charged – have experienced the exhaustion of chasing an ideal of perfection.  How does one get off the hamster wheel of shallow dreams?  Simple: you either jump off or it throws you off.
Let me preface this conversation by stating I LOVE BEAUTY.  I am in the middle of completing my dream glam room with a custom makeup desk, Hollywood lighted mirror, fur chair, and leopard wallpaper.  Palms up…I'm a girly girl. However, I keep it fun and don't take myself too seriously.  It's my grown up doll house where I want to feel 5 again playing dress up in my mother's closet.  And, there in lies the litmus test: feeling.  How do you feel when you get ready?  What's your goal?  How long are you taking?
When I'm having a bad day, and it seems like everyone else is flawless in their no-makeup makeup, I turn to my #keepItReal beauty affirmations:
Beauty is energy.  An instagram photo isn't tangible – you can't hold it, talk to it, engage in any way but take it as face value.  In a micro second, we decide whether to heart or scroll past an image for what reason?  Because we like the way it looks, and that's ok!  But, to judge one's beauty or life achievement on a glimpse is simply, shallow.  In short, beautiful pictures do not equal beautiful people.  However, true beauty is appreciated once there's a connection on a deeper level – an emotional and/or physical experience you have with another person.  My favorite people are the the ones that become more beautiful the more I'm around them; because they're multi-faceted with different layers.  Perfectly imperfect.
Beauty is in the eye of the beholder.  You know what's great about this?  You get to choose your peeps, so choose the ones that think you're amazing!  Don't punish yourself by tolerating negative, critical people –  including yourself.  The most abusive person in a relationship can be the person staring back at you in the mirror; so drown that demon and practice self-love.  If you don't believe you're beautiful, no-one else will.  Unless, you completely luck out like I did and your husband reminds you how to love yourself on days you've forgotten.
Fountain of youth doesn't exist.  The brutal reality is we are aging every day.  Sad, but true.  Unless you have genes like Christi Brinkley (who's probably tweaked), your skin is going to sag, wrinkle, and dimple.  No amount of Botox can stop the inevitable, so embrace the woman you're becoming and enjoy the process of morphing into a more mature you.  Start thinking of women you look up to – 10 years, 20 years, even 30 years your senior.  What do you respect about them?  Why?  I can promise you it's not going to be their realistic looking hair extensions that leave an impression or legacy.
Same is boring.  Have you noticed how everyone is starting to look alike?  Especially with the rise of social media, people are mere copy-cats of the current "it" girl.  Makeup tutorials are everywhere on how to look exactly like _______ (name the celebrity).  Tips on how to make your nose look smaller, higher cheekbones, larger eyes, and duck lips.  I have swapped cooking shows with makeup tutorials because I'm fascinated with the work and artistry that goes into all the looks.  The most comical are the "day-time minimal looks" that still include contouring and false lashes.  The best part?  These vloggers are making bank painting faces and showing mega transformations that are unbelievable.  True talent and impressive. But, look like YOU.  A better, polished version, but don't cover your features.  DO cover pimples.  And dark circles.  That is always necessary.
In closing, this post was inspired after a melt down in my bathroom the other day.  My concealer didn't work the magic it was supposed to and dry shampoo couldn't fix my hair disaster.  So, as a morale booster to myself (and hopefully to you), I write this to remind us all that imperfection is beautiful, natural and authentic.  And that, my friend, is all we are expected to be.  Love yourself, warts and all.